Working for automotive industry. Working for you.
Do you have a degree in chemistry and are you looking for a position in which you can really get things moving? Then Blaser Swisslube is just the place for you. With us, you can expect a wide scope of activity relating to our high-tech fluids that keep entire industries moving. And all of this in a friendly environment in which flexible working is a given.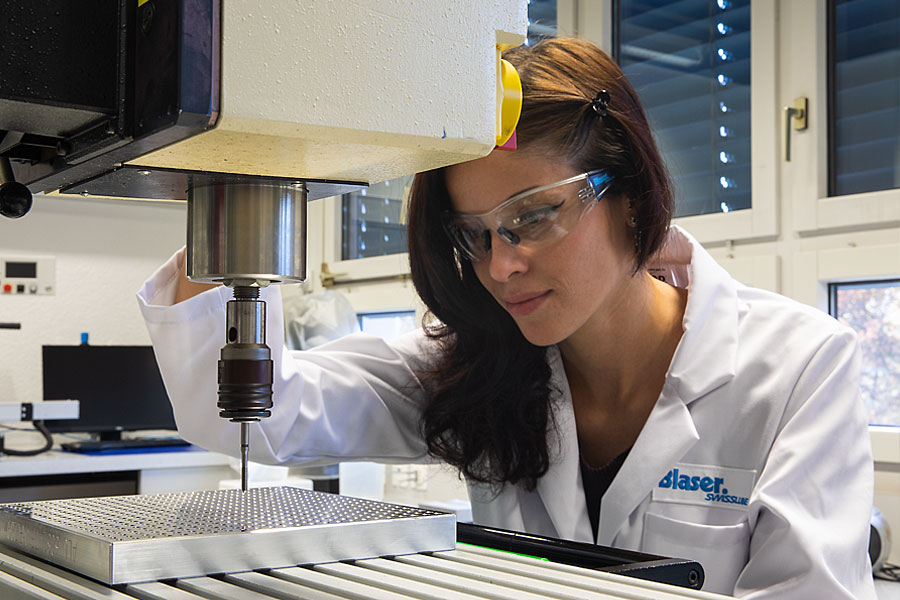 Chemistry is at the heart of our business ­– since the focus at Blaser is on the "Liquid Tool", a unique combination of expertise, products, and services. As a chemist, you'll develop new coolants and lubricants, which our customers will use to get the best out of their machines and tools. Since each company has its own production processes, a comprehensive analysis of the individual situation is required in order to find the ideal coolant solution in each case.
Between the laboratory and the technology center
Your responsibilities in this position are just as varied, and you'll alternate between working at your desk, in the laboratory, and at the company's own technology center. You'll develop the products used by our customers using a sophisticated combination of raw materials and additives, while taking a number of environmental and sustainability aspects into consideration. While at your desk, you'll interpret the data acquired and develop recommendations for new formulations. You'll also be closely involved in the coolant's further development. What makes things even more interesting is the variety of industries for which you'll be working: these range from watchmaking and aerospace right through to the machine industry and medical technology.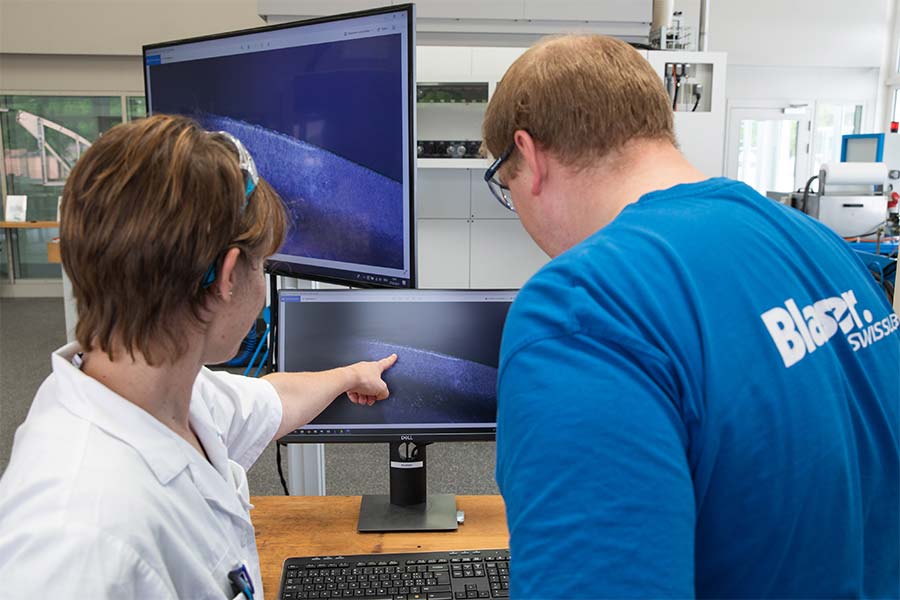 What makes Blaser the right employer?
✓ A good work-life balance
✓ A fascinating working environment
✓ State-of-the-art infrastructure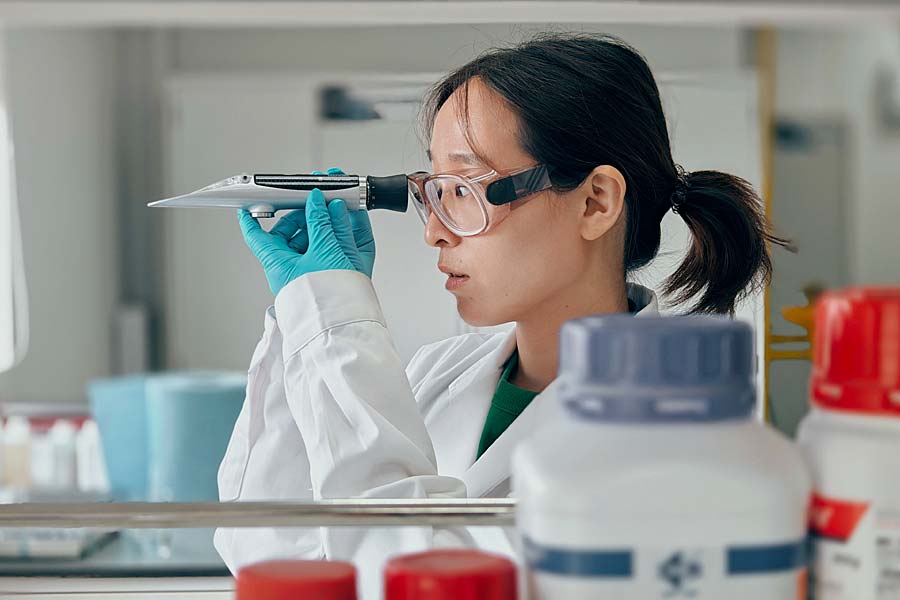 Chemical expertise and plenty of curiosity
We believe that curiosity is a significant driver for new discoveries. Since, in order to develop innovative coolants and lubricants, we need different perspectives, unconventional thinking, and people who are enthusiastic about new ideas and industries. You are an individual who is not satisfied with the status quo, who questions existing laboratory methods and work processes and in doing so drives changes forward. What you absolutely must have besides a sense of curiosity is a degree in chemistry (from a university or university of applied sciences).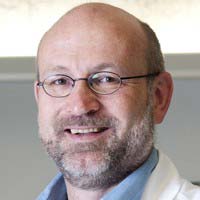 Daniel Berger
PhD Chemist in Research and Development
«If I develop a formulation, and later down the line the coolant is then able to help our customers to optimize their processes, reduce costs, and remain competitive, then that's a great feeling.»
A work-life balance and part-time work
Flexible working is a given for us: You'll organize your work independently, so that you can optimally coordinate your working hours with your private life. You decide for yourself when you'll most effectively be able to get your tasks done. At Blaser, we share the opinion that work is important, but it isn't everything. That's why our full-time employees are able to choose their employment level between 80% and 100%. We also offer attractive part-time positions with lower employment levels. Currently, more than 40% of all our employees work part-time in our R&D and customer service sectors.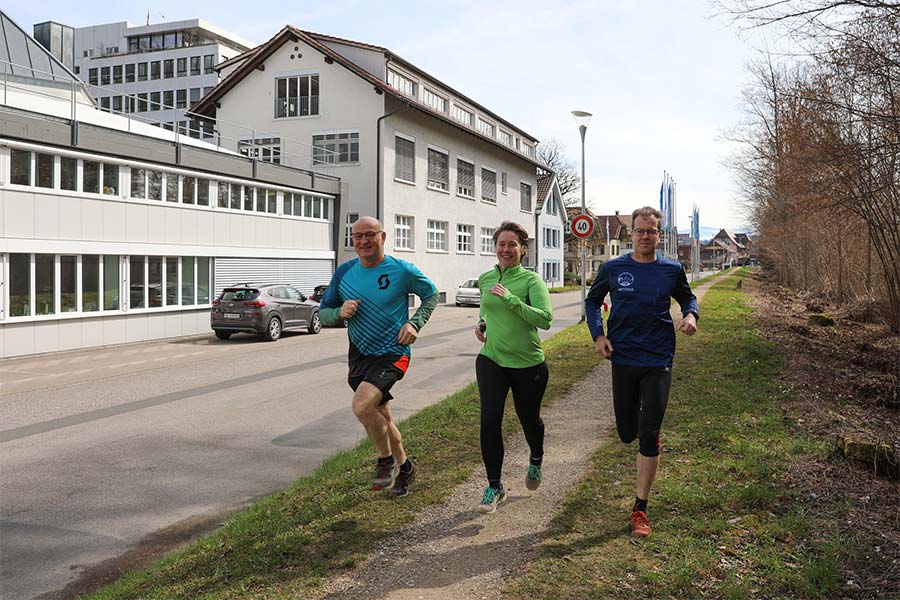 A 3,500 m2 research and development laboratory that is unique in the industry
An exciting exchange of knowledge with more than 50 experts in chemistry and beyond (e.g. analytics, microbiology, tribology)
Customers from over 10 different industries and 60 countries
Over 300 different coolant solutions in the product portfolio
Around 40 percent of our employees in R&D are women
State-of-the-art infrastructure
Our chemists work in one of the industry's most state-of-the-art research and development laboratories. This allows us to carry out the full range of laboratory tests at our site in Hasle-Rüegsau bei Burgdorf. We characterize raw materials using IR and NMR spectroscopy as well as GC-MS and LC-MS analyses. We use state-of-the-art particle measuring devices as well as stability and surface analyses to validate the products and check these in cutting performance and material compatibility tests. Incidentally, we check new products directly on site in our own technology center, which has modern CNC milling machines and a state-of-the-art grinding machine.