Working for aerospace industry. Working for you.
Do you enjoy working in an international environment? Are you not satisfied until working processes mesh perfectly with one another? Would you like to get involved in modernizing warehouse logistics, and do you have a good sense for collaboration with customers, suppliers, and partners? Then you've come to just the right place. We offer a wide variety of jobs within supply chain management (SCM): from production planning to procurement, production, warehouse and distribution logistics, right through to the handling of orders and exports.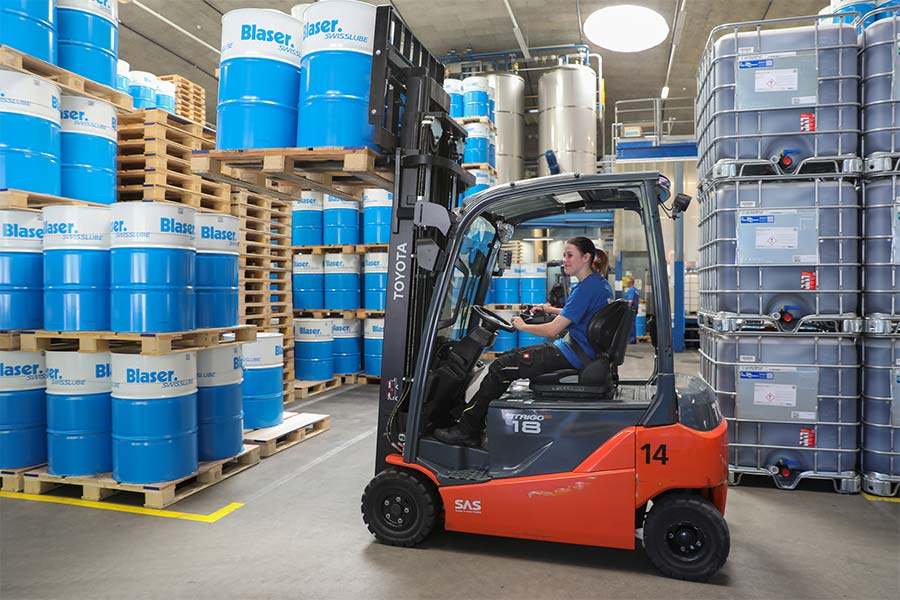 SCM – the backbone of our company
Supply chain management (SCM) is the hub for the entire Blaser value chain – since more than a dozen different ingredients are required for our coolant and lubricant solutions, such as oils, emulsifiers, and additives. As part of the SCM team, you'll ensure the reliable and flexible supply of our markets. You'll ensure that the right products reach our customers with the right quantity and quality and at the right time.
In total, we employ around 60 employees in supply chain management at our headquarters in Hasle-Rüegsau close to Burgdorf (Switzerland). We therefore have one of the largest SCM teams in the canton of Bern, with jobs that are just as varied:
Exports: Foreign trade specialists oversee the complex overseas business and process our orders – from small packages right through to shipping containers – both efficiently and in compliance with the relevant contract.
Transport: C/E drivers with dangerous goods training, who ensure distribution to our customers in Switzerland and its neighbouring countries. A Head Disposition and Transport , who creates detailed route plans and continuously optimizes vehicle occupancy for our own fleet.
Logistics: Logisticians, who monitor incoming goods and enter these into the system. Logistics specialists, who analyze and optimize internal and inter-company logistics processes. And a Head of Logistics, who understands, analyzes, and strategically develops SCM as a value creation network.
Production: Production planners, who plan our production capacities and monitor and document stock levels worldwide. Production employees, who manufacture and package our coolant and lubricant solutions.
Purchasing: Our Head of Purchasing plans and regulates strategic and operational procurement targets in order to ensure long-term competitiveness. The purchasing specialists draw up market and cost analyses, take care of our suppliers, and ensure that we are purchasing goods at the best-possible prices.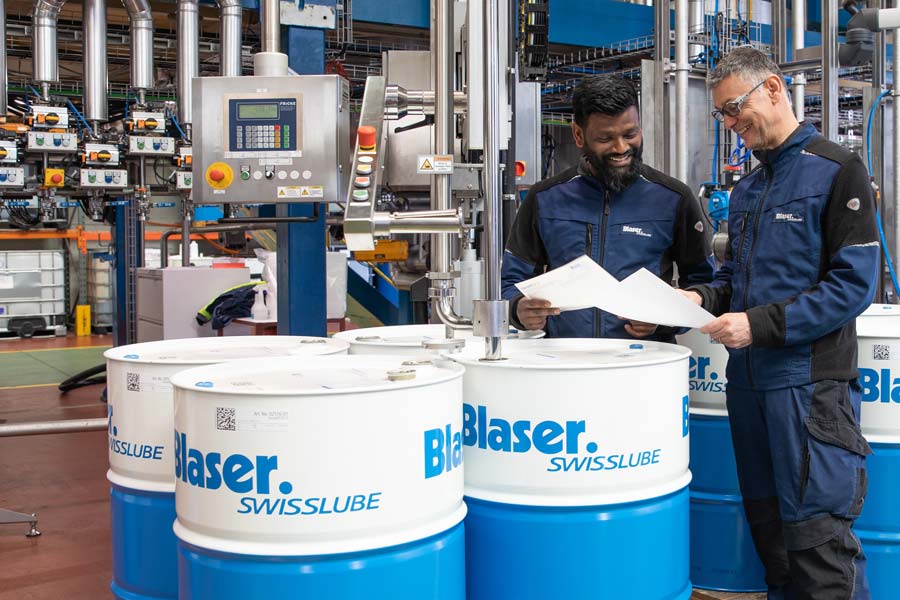 What makes Blaser the right employer?
✓ A fascinating working environment
✓ Varied activities
✓ A good work-life balance
✓ A family atmosphere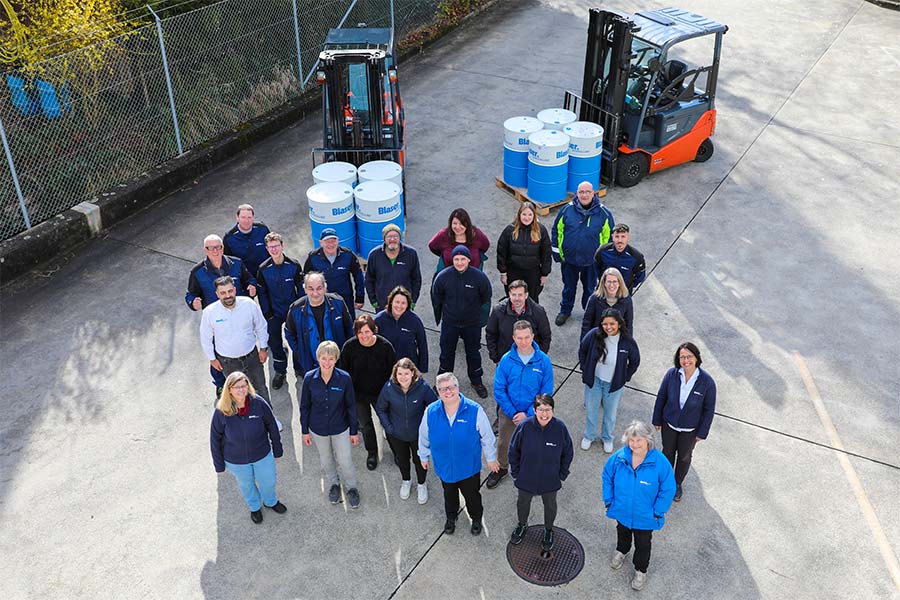 Teamwork makes the dream work
Due to our broad range of responsibilities, the qualities sought after vary depending on the job. In Purchasing, you'll impress with negotiating skills and a talent for languages. As a logistician, you'll bring an understanding of automated systems and materials handling. In production, you'll impress with your ability to handle machines and systems. But the most important characteristic you can bring to the table is your ability to work in a team. Since we have a focus on teamwork and work in a non-hierarchical way across all departments and management levels. Everyone – irrespective of their position and age – can make proposals and take on responsibilities at Blaser.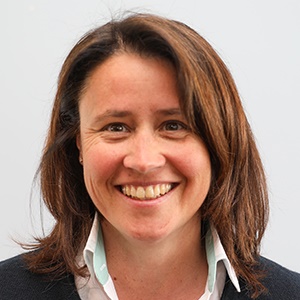 Karin Wyss
Head of Supply Chain Management
«Each day poses new challenges in supply chain management – particularly in these turbulent times in which the only constant is change. This makes things interesting, but requires a high degree of flexibility.»
International flair, family atmosphere
We are a global company with branches and our own employees around the globe. Our innovative coolant and lubricant solutions are exported to more than 60 countries. This international orientation makes working at Blaser really interesting. Despite our global presence, we have established deep roots in our home in the Emmental region since 1936. Our family-friendly working environment is one of a kind. We are living by a culture in which encounters on an equal footing are a given, all the way up to the CEO. Many employees get involved and meet up outside of work as well, whether that's over an after-work beer, at sports events, or on a hot air balloon ride.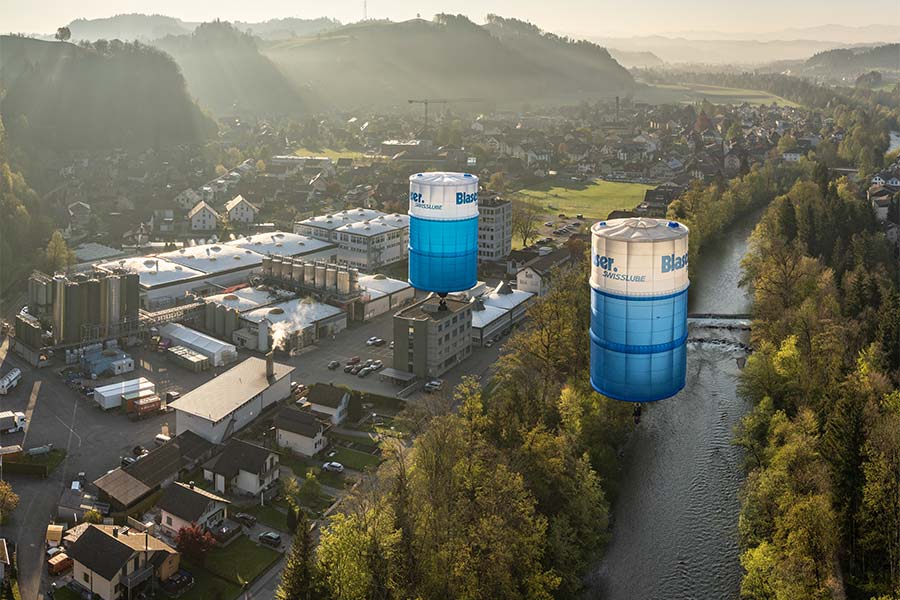 10 different jobs in supply chain management
Around 6,200 pallet spaces
Tank warehouse with around 90 tanks
22,000 orders delivered each year
70,000 order items processed each year