Coolant optimizes complex ceramic grinding processes
Producing high-quality ceramic parts places particularly high demands on the coolant used. In early 2021, Mannheim-based manufacturer, BCE Special Ceramics GmbH, thoroughly tested Swisslube's high-performance coolant Synergy 915. With excellent results: the coolant service life was tripled, while the service life of the grinding wheels increased by 30 percent. Other benefits include better surface quality, lower abrasion, higher stability, higher machine availability and better human compatibility. The switch to Synergy 915 was a complete success.
Founded in 1986, BCE Special Ceramics GmbH, manufactures customer-specific technical ceramic parts. The Mannheim-based company focuses on complex and new parts, prototypes, pilot series, individual parts and smaller batch sizes that are designed and machined. "We do not represent mass production, but rather quality, flexibility and consistent customer focus," explains Dr. Ing. Torsten Weiß, Managing Director of BCE. For the highly specialized manufacturer, the right choice of material is an essential part of the process – starting with ceramic powder, which is adapted to customer requirements in collaboration with research institutes and suppliers.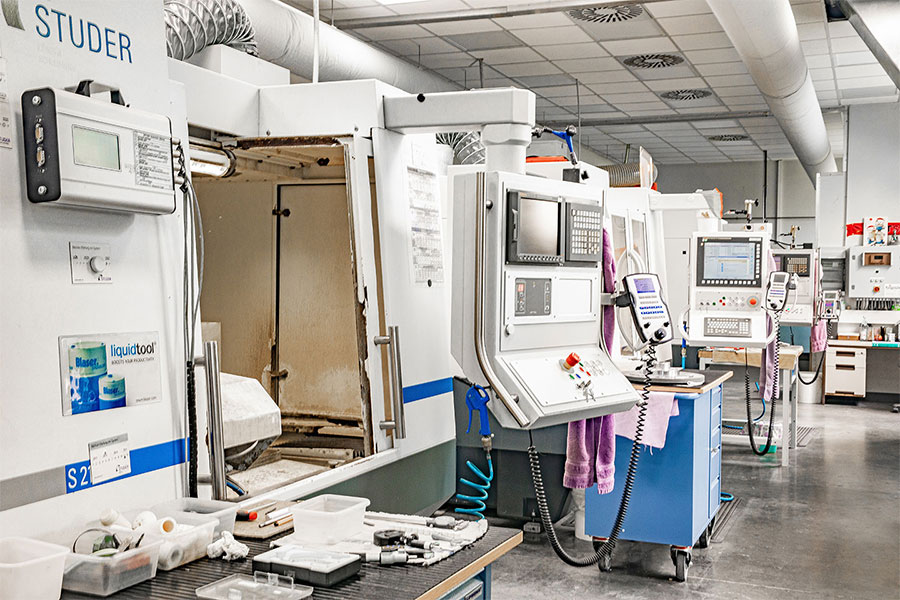 The production hall of BCE. Here, too, contamination from the previously used coolant is still visible.
With 30 employees, BCE supplies customers in the medical, insulation, chemical and other industries. When Marcus Benz, a sales representaative from Blaser Swisslube, first met with BCE Project Engineer Christoph Greubel and Division Master, Kamil Irmak, in the winter of 2020, they discussed problems and possible improvements in production. "Of course, with such specialized manufacturing processes, the demands on the coolant are also very high. BCE's main goals were to reliably achieve the customers' desired level of accuracy, excellent surface quality, lower abrasion and better human compatibility," recalls Marcus Benz. BCE Division Master, Kamil Irmak, reports: "The stability of the coolant previously used was insufficient, and there was also paint dissolution and deposits in the machine and tank."
A three-month test phase with the Blaser coolant Synergy 915 was started at the beginning of 2021. Synergy 915 is a fully synthetic high-performance coolant ideally suited for grinding processes. "This product delivers excellent surface quality, low consumption, high stability, excellent rinse behavior as well as flow-off behavior, and is also ideal for high-pressure systems due to its low foaming. It is very suitable for ceramic machining. For these reasons, we recommended Synergy 915," explains Marcus Benz.
Coolant service life tripled
The test phase was a resounding success. Compared to the product previously used, the coolant service life more than tripled. While the old coolant had to be changed every two to three months, Synergy 915 has already been in use for more than six months without any problems. Christoph Greubel: "In addition, the service life of the DIA grinding wheels has increased by 30 percent. The stability and longer service life, lower top-up rate and higher machine availability resulted in direct cost savings. A good coolant can ensure that wear on the machine from the grinding process is slowed, and the machine lasts longer."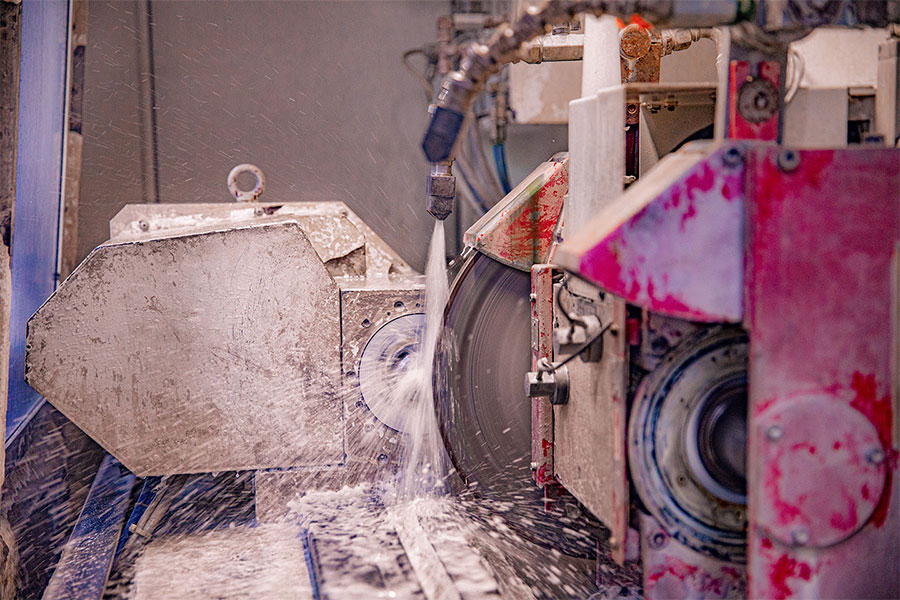 Synergy 915 in full use for machining ceramic parts. Before switching to Blaser coolant, BCE managers had to deal with heavily contaminated machines.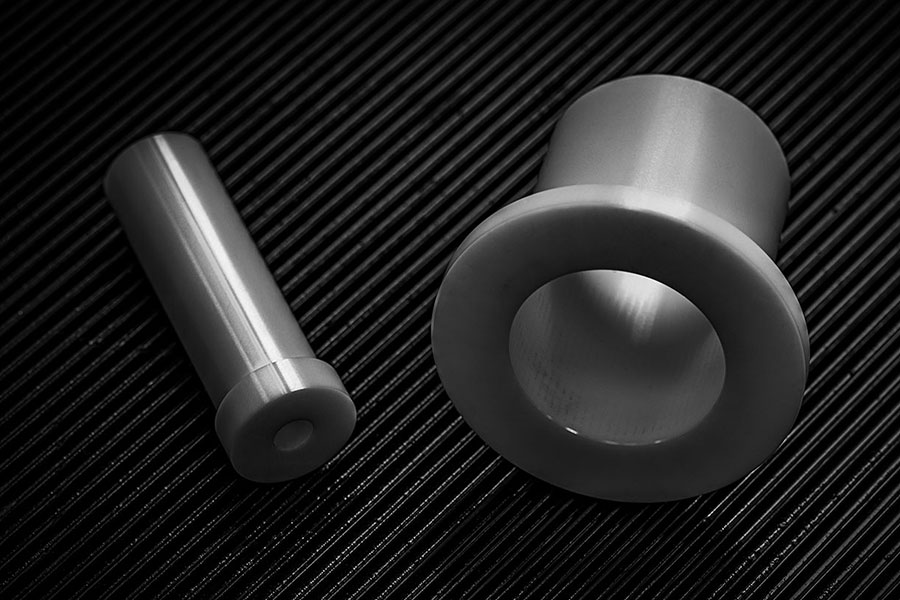 Glossy surfaces could be achieved with Synergy 915 – in comparison, a workpiece produced with the coolant previously used on the right.
With Synergy 915, higher cutting data, lower abrasion and a better surface quality overall could be achieved. While the coolant previously used resulted in visible residue in the machines, Synergy 915 has noticeably improved the flushing, cleaning and lubricating properties – including clean machines. Another important element of optimization was also achieved in the area of human compatibility. "Compared to before, it has become even better, since the changeover there are no more skin problems with employees" Kamil Irmak explains.
The experts at Blaser Swisslube take a holistic approach: only once the coolant is optimally adapted to processes, materials, machines, tools and all environmental details does it become a Liquid Tool TM, which has a positive effect on overall productivity. This know-how was implemented step-by-step in cooperation with the experts from BCE. Regular visits, reviews and analyses were an important part of the process.
BCE and Blaser Swisslube want to continue to intensify their successful collaboration in the future. There will be a few challenges ahead: "We want to further optimize the quality, be even more refined and more precise, right down to the micron. At the end of the year, we want to use a new machine in a closed, climate-stable room to take the next step in terms of accuracy, precision and quality improvement and we want to be able to execute customer requests in an even more targeted manner," reports Christoph Greubel. "To ensure we achieve our goals with regard to quality, machine cleanliness and productivity, the new machine will be filled with Synergy 915 from Blaser Swisslube right from the start."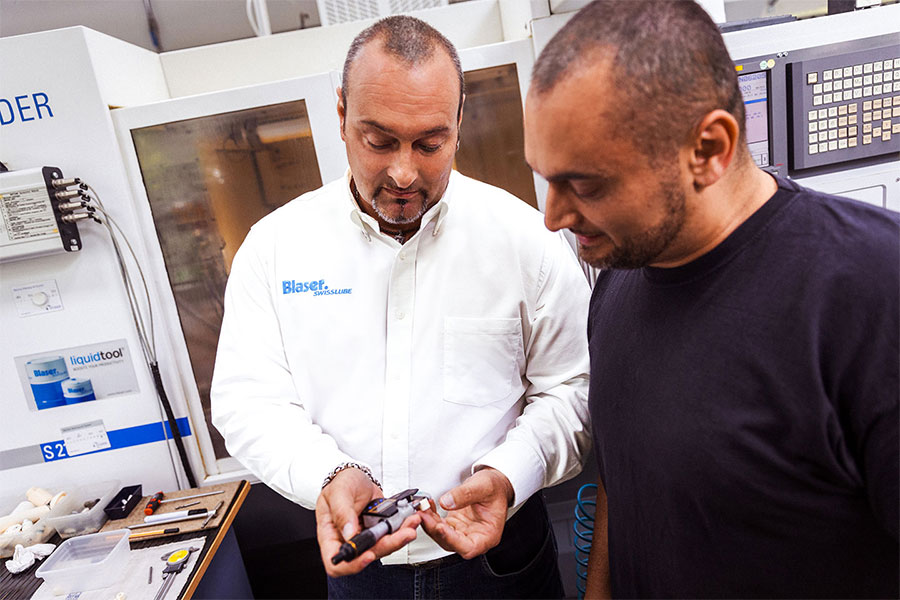 Successful cooperation: Blaser grinding expert Martin Reichhart with BCE application engineer Kamil Irmak.