Blasogrind GTC 7 reduces processing times by ten percent
Founded in 1989 and headquartered in Nussloch, in Baden-Württemberg, Germany, Woitschach GmbH has developed over the decades into a high-tech company with a focus on the reconditioning of gear hobs, the manufacture of drilling, milling and reaming tools, as well as special tools. In the spring of 2020, those in charge explored the potential for efficiency increases together with the coolant experts from Blaser Swisslube. A test phase with the high-performance grinding oil Blasogrind GTC 7 yielded impressive results: an increase in efficiency of up to ten percent and better surface topography for the tools.
The headquarters of Woitschach GmbH is located around ten kilometers south of Heidelberg, in the industrial area of Nussloch. The company was founded in 1989 by Andre Woitschach as a resharpening service. The first workshop operated out of a garage. 32 years later, Woitschach GmbH is a large, ISO-certified high-tech company in the tooling industry, with state-of-the-art machinery and enormous product diversification.
Timo Woitschach, son of the founder and current head of the company: "We can proudly say that we are now not only a traditional resharpening company, but also a respected manufacturer of special tools, developing solutions in carbide and cermet. Our portfolio also includes the resharpening of gear cutting tools, the manufacture and reconditioning of solid carbide tools with brazed cutting edges, such as reamers." Manufacturing takes place with 14 employees in two halls using 15 CNC machines and a production area over 1,000 square meters. The company is broadly positioned and produces for numerous industries ranging from mechanical engineering, dental technology, automotive suppliers, and die and mold making, right through to the tool industry.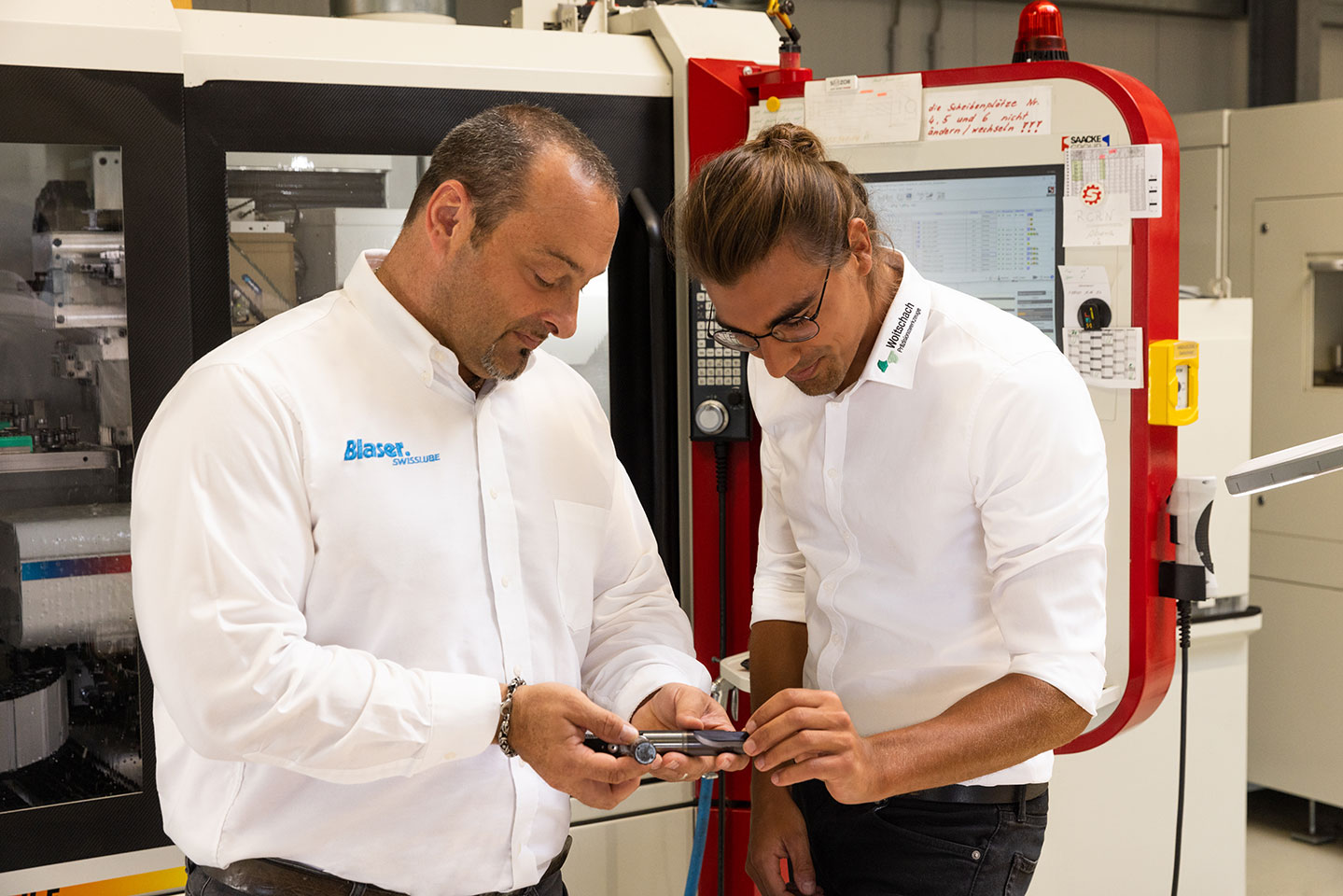 Satisfied look: Blaser application engineer Martin Reichhart and Woitschach company director Timo Woitschach. 
In April 2020, initial talks took place between the coolant specialists from Blaser Swisslube and the experts from Woitschach GmbH. The goal of these talks was to explore potential efficiency improvements in Woitschach's production. Sales representative Marcus Benz and grinding expert Martin Reichhart from Blaser Swisslube shared experience from many decades in the tool grinding industry and gained insight into the specific requirements of Woitschach GmbH. "For us, it's all about machining the gear hobs from carbide and HSS as efficiently and economically as possible. In addition, we are constantly striving to increase the pitch accuracy and quality of the gear hobs while simultaneously optimizing the process for our customers and improving the machine capacities in hours," explains Marco Zahn, technical sales manager at Woitschach GmbH.
Company President and Aerospace Engineer Timo Woitschach adds: "We are always interested in new technologies and innovations. That's why we entered into an agreement with Blaser Swisslube regarding a test phase using the Blasogrind GTC 7 product."
Fast air release with high removal rates
The innovative Blaser high-performance grinding oil Blasogrind GTC 7 and its special additives ensure optimum cooling and lubricating performance through rapid air release. This guarantees high material removal rates (Q`w), long dressing intervals and excellent surface quality. With these properties, the grinding oil is particularly suitable for the manufacture and resharpening of carbide, ceramic, HSS and cermet tools. Even profile and creep feed grinding can be carried out without any problems. Blasogrind GTC 7 impresses with its performance-optimized formula and prevents microcracks at the resulting cutting edge on the tool. Special antipolar additives ensure better rinsing properties on the tool. Optimum wetting of the grinding wheel and the material to be machined optimizes the grinding result and process reliability. Blasogrind GTC 7 is colorless and transparent and allows a clear view of the grinding process. In addition, the grinding oil is odorless.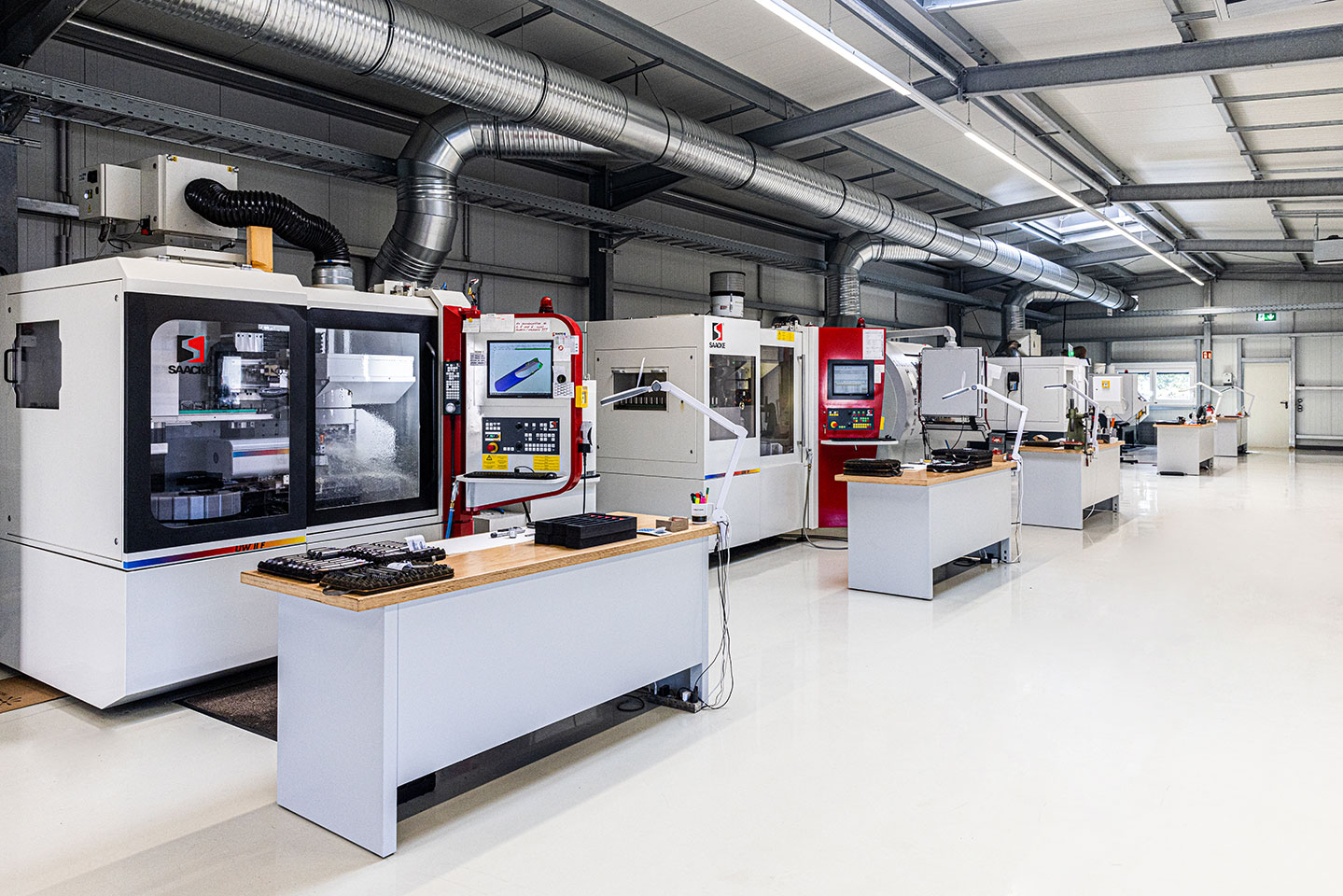 The ultra-modern machinery of Woitschach GmbH in Nussloch, Germany.
After a detailed analysis of the production processes, three machines – two hobbing grinders and one 5-axis CNC tool grinding machine – were filled with Blasogrind GTC 7. "With our approach of understanding coolant in the overall context of manufacturing, it becomes a Liquid Tool TM and thus a key success factor," explains Martin Reichhart of Blaser Swisslube. The results after the three-month testing phase speak for themselves: "We have achieved efficiency gains of up to ten percent and more," reports Timo Woitschach. We have been able to successfully increase the service life of the grinding wheel and optimize the cooling capacity, rinsing behavior and process reliability. Even in terms of processing quality, the new grinding oil impressed across the board. A better surface topography of the tools could be achieved. Reduced grinding burr on HSS tools means less rework is required. "The new grinding oil also offers real added value for our end customers thanks to the increased service life of the grinding wheels and the improved quality and process reliability," emphasizes the company boss.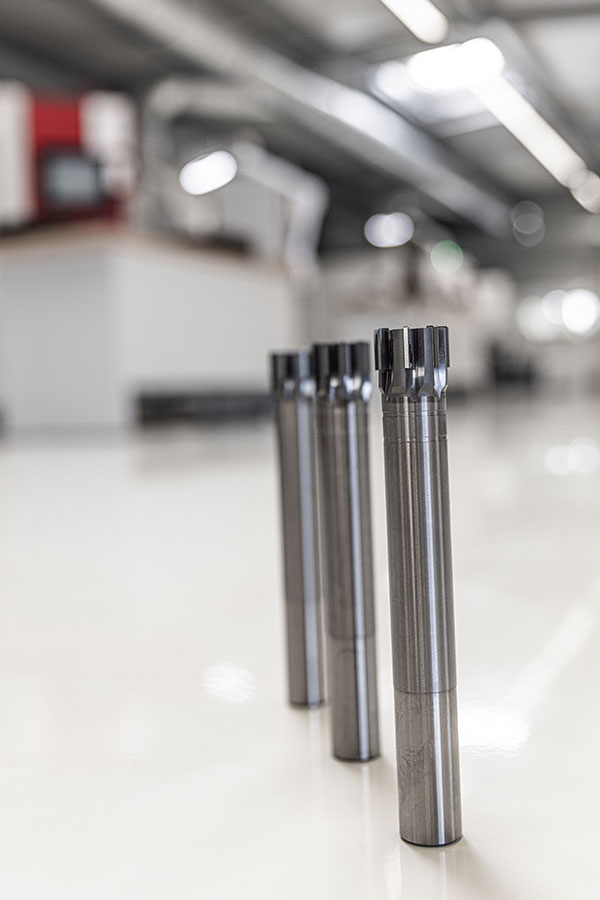 The high-performance grinding oil Blasogrind GTC 7 ensures excellent surface quality.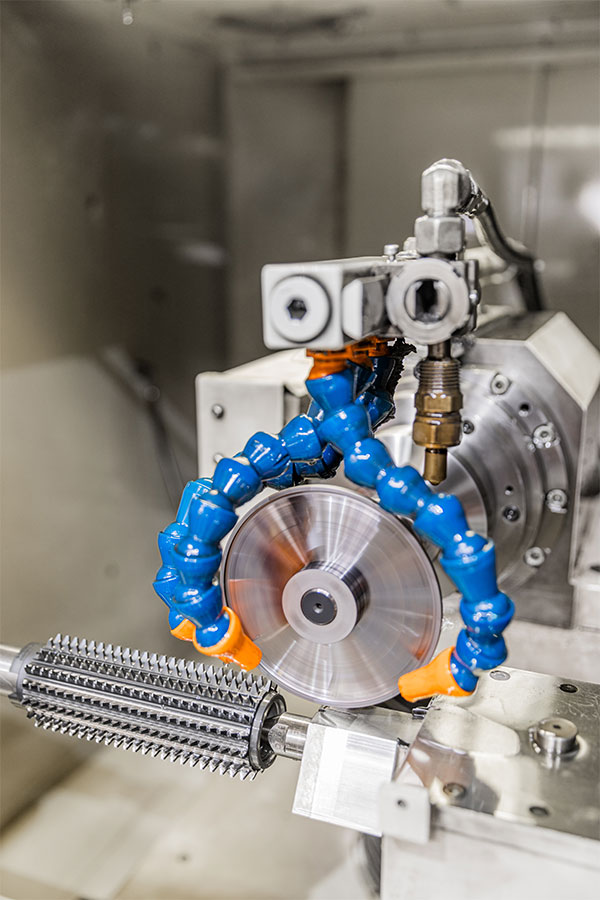 The grinding oil Blasogrind GTC 7 impresses with its fast air release and high removal rates.
Leading the way thanks to know-how
After successfully switching to the new Blasogrind GTC 7 high-performance grinding oil, those in charge at Woitschach GmbH now want to gradually convert all the machines in their fleet to Blaser Swisslube. Timo Woitschach: "If an increase in capacity and an increase in process reliability and quality also go hand in hand with a lower price, that's real progress." In the coming years, Woitschach GmbH plans to expand capacity and train more apprentices so that they are prepared for the tasks of the future. Strengthened and close cooperation with Blaser Swisslube experts at the in-house Blaser Technology Center in Switzerland is also planned in order to continue to play a pioneering role in high-precision grinding processes.