High-performance grinding oil improves quality and economic efficiency
Left to right: Roland Brouczek (Berner + Straller), Hugo Limmer, Linus Erlacher (Werkzeugschleiferei Hugo Limmer) and Martin Reichhart (Blaser Swisslube GmbH Germany) at the Rollomatic 620XS (Photography: Sonja Sindlhauser)
In 2017, Werkzeugschleiferei Hugo Limmer, which specializes in the production of high-precision cutting and machining tools, started an initial test phase using Blaser's Blasogrind GTC 7 grinding oil. The goals were ambitious: faster grinding processes, fewer dressing intervals and machine idle times, better process security, fewer rejects, better surfaces and optimum human compatibility. Blasogrind passed the test with flying colors, and all goals were achieved. Machine efficiency was increased by 15 percent.
Werkzeugschleiferei Hugo Limmer was established in 2000 and is based in the quiet town of Waakirchen in Bavaria, not far from the shores of Lake Tegernsee. The company focuses on the production of high-precision cutting, drilling, milling and special tools, and on sharpening services for the mechanical engineering, aerospace and medical technology industries. Staff at the tool grinding shop have many years of experience and manufacture within very tight tolerances.
Implementing such high-precision grinding processes reliably and efficiently calls for a suitable high-performance grinding oil. Looking for a coolant solution tailored to its production processes, company founder Hugo Limmer and the responsible industrial engineer Linus Erlacher contacted the specialists at Berner + Straller GmbH in Munich, the official business partner of Blaser Swisslube in Bavaria, Saxony and Thuringia. The experts from Berner + Straller and Blaser examined the grinding processes, looking for ways to optimize operations. The first machine was filled with Blaser GTC 7 in March 2017, and further machines were gradually switched over in the following years.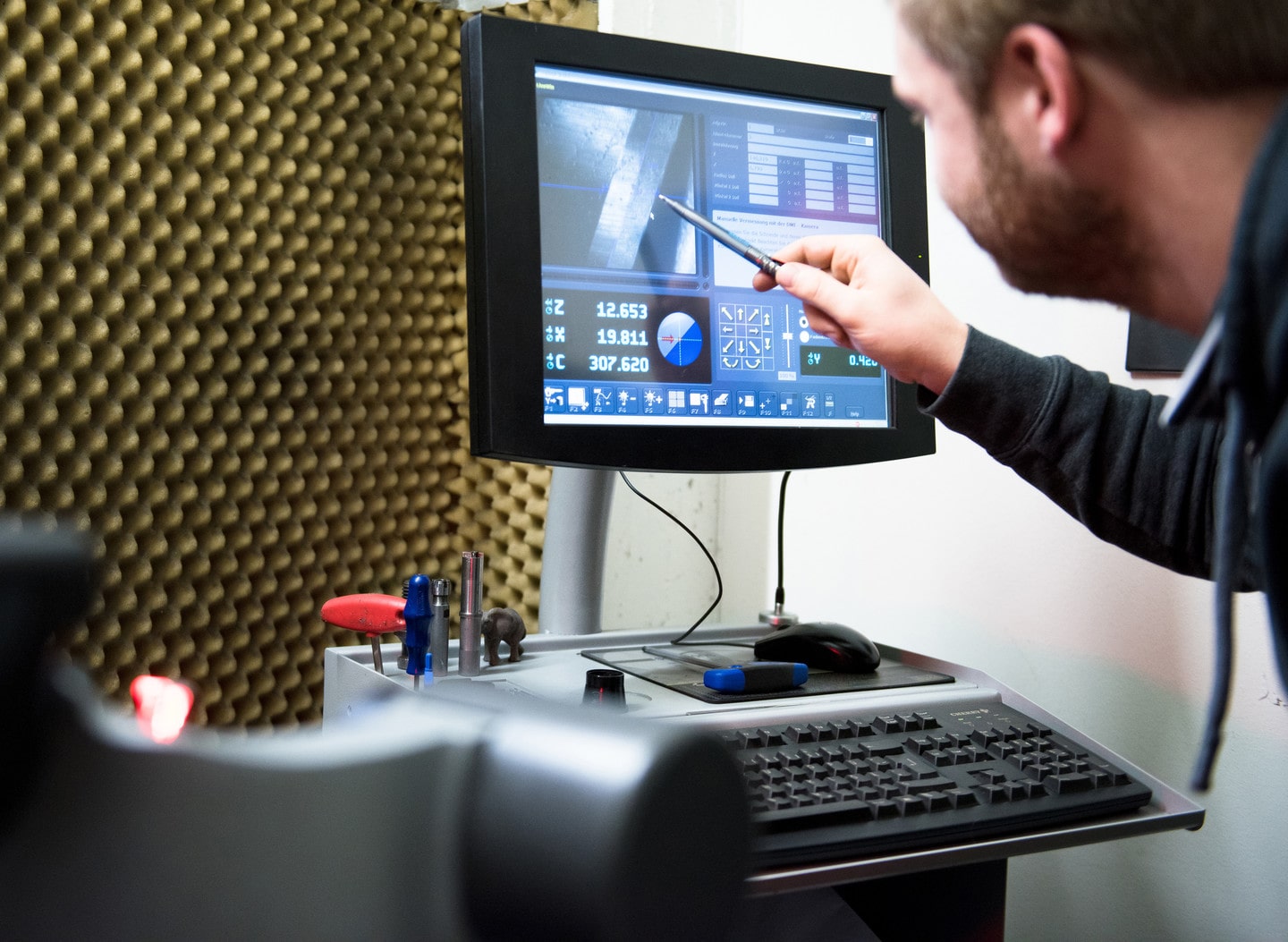 Linus Erlacher inspects a cutting edge on the Zoller measuring machine (Photography: Sonja Sindlhauser)
At the start of the cooperation, a comprehensive analysis of the current situation was carried out and goals were defined. The new metalworking fluid needed to be almost odorless, as well as offering optimum human compatibility and low misting. "At the same time, we wanted to continuously improve productivity and quality, to get the most out of the available resources and in this way to add economic value," recalls company boss Hugo Limmer.
A metalworking fluid that is well-matched to all parameters – from the material being processed, the grinding wheels and the machines to the machine environment – can have a significant impact on the entire production process. Blaser Swisslube application engineer Martin Reichhart explains: "That's why we examine all the details in order to find the ideal metalworking fluid. When used correctly and complemented by customized services, the right metalworking fluid becomes a Liquid Tool and increases overall productivity."
When it came to the production processes used at Werkzeugschleiferei Hugo Limmer, the obvious choice was the Blasogrind GTC 7 high-performance grinding oil. With its performance-oriented formulation, this grinding oil is associated with high removal rates, long dressing intervals and excellent surface quality. It is odorless, colorless and clear, with very low cobalt leaching. Blasogrind GTC 7 is suitable for machining tungsten carbide, ceramics and cermet, both for tool grinding and sharpening and for profile and creep feed grinding. The fast air release guarantees optimal cooling performance and prevents microcracks in the tool.
Machine efficiency up 15%
The Blaser product won over the decision-makers within the first few days of the initial test phase. Hugo Limmer: "Machine efficiency was improved by 15%, and the cycle time was reduced significantly. Blasogrind GTC 7 also scored highly in terms of human compatibility. We couldn't be happier."
The new grinding oil ensures better surface quality and minimal cavities on the cutting edges. Process security for large batches has been significantly improved, and idle times per machine have been minimized. In addition, the grinding oil can be easily removed from the tool surface, ensuring a smooth coating process.
Blasogrind GTC 7 also makes a compelling case when it comes to economic efficiency. The costs of this metalworking fluid, which are slightly higher than in the past, are more than made by the increased productivity: Blasogrind GTC 7 enables Werkzeugschleiferei Hugo Limmer to produce more efficiently, saving around 67,000 euros per calendar year.
These are successes that will be built on further: Werkzeugschleiferei Hugo Limmer, Blaser Swisslube and Berner + Straller intend to continue working closely together in the future to further optimize productivity and quality.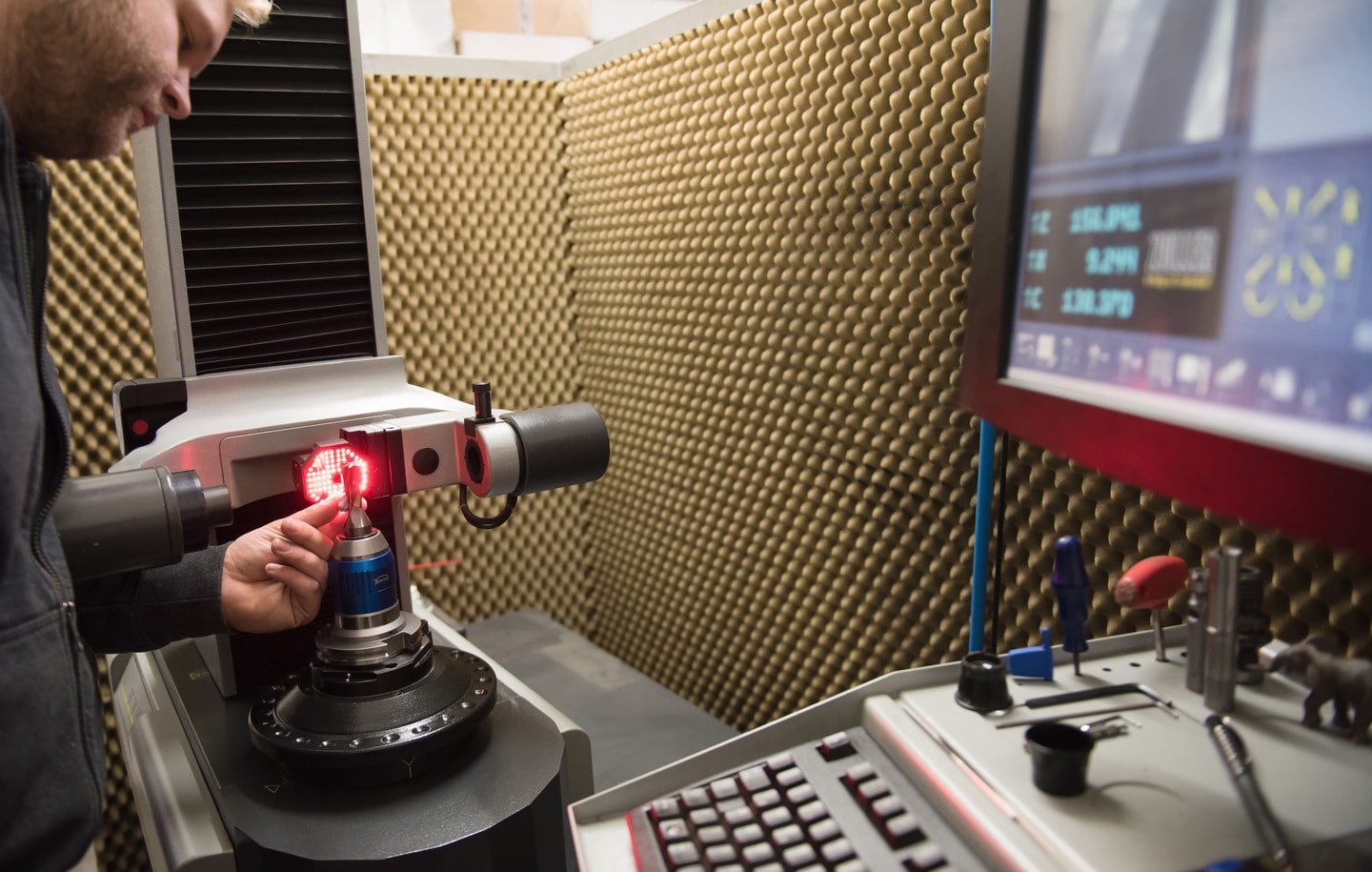 Linus Erlacher completes the final step on the Zoller measuring machine before precision measurementto μm accuracy (Photography: Sonja Sindlhauser )