ChemValve-Schmid – Planning reliability and clean machines with B-Cool
For three decades, leading PTFE industrial valve manufacturer ChemValve-Schmid AG has relied on metalworking fluids from Blaser Swisslube in its diverse machining processes. The demands on the metalworking fluid are changing continuously as new machines, materials and production sequences appear. Following detailed analysis, about four years ago the Blaser experts suggested switching to B-Cool 755, a water-miscible mineral oil-based metalworking fluid. The switch soon paid off: greater predictability, easier maintenance, reduced consumption, optimized skin compatibility and top efficiency are the outstanding results.
ChemValve-Schmid AG, based in Welschenrohr in the Swiss canton of Solothurn, develops and produces high-quality industrial valves lined with PTFE for secure shut-off and regulation of gaseous, liquid or powdery media. ChemValve is a private and independent company that—with the finely crafted details of its sophisticated sealing systems, high manufacturing precision, a focus on innovation, and proprietary production machinery—has earned the status as one of the world's leading PTFE valve manufacturers. An extensive network of distribution partners enables ChemValve to serve customers from various industry sectors in over 60 countries worldwide.
Since its foundation in 1993, ChemValve has focused on maximum precision and quality in production. Blaser Swisslube has accompanied the company as a metalworking fluid partner ever since. Three decades in which production processes were constantly examined, analyzed and improved in close co-operation. "For 30 years, Blaser specialists have been working hand in hand with us, testing, checking and advising. The Blaser field service specialists all have one thing in mind: to get the best for the customer," says Beat Allemann, Production Manager at ChemValve-Schmid AG.
When ChemValve purchased new lathes in 2018, expanding its production, the company also revisited its metalworking fluid solution. "We were actually quite satisfied with the Blasocut metalworking fluid we had previously used. On Blaser's initiative, however, we looked into switching over," Allemann reports.
Blaser application engineer Martin Haas recalls: "The production processes at ChemValve are complex. Up to 80 percent cast iron, but also titanium and other materials are milled and turned. We had the idea of trying B-Cool 755—a water-miscible, chlorine-free, mineral oil-based metalworking fluid that was originally developed for machining aluminum and aluminum alloys—which is also proving very efficient for more demanding materials." B-Cool 755 features optimum flow behavior, good resistance to microbial growth, clean machines and low top-up rates. Its properties also include low-foaming, good stability and corrosion protection as well as low consumption.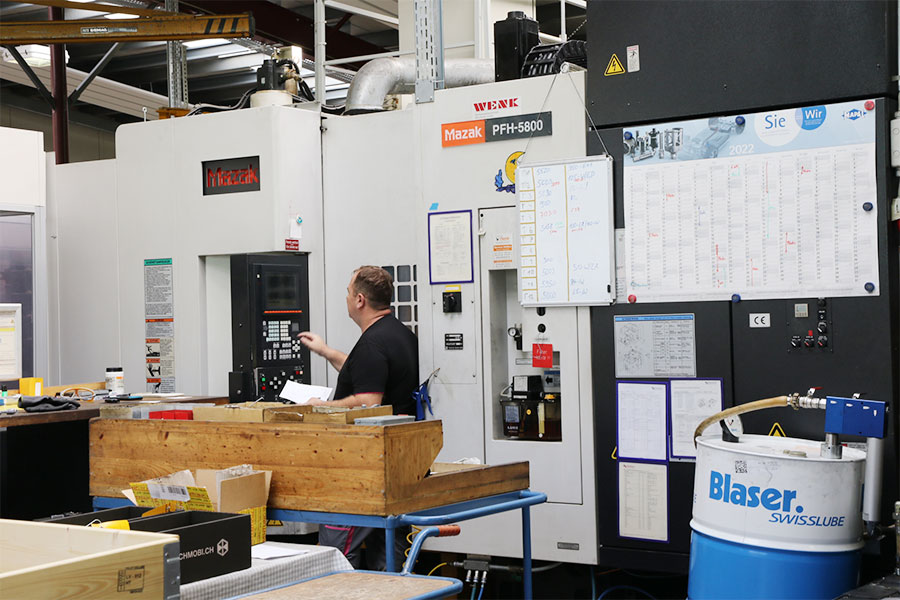 Insight into manufacturing at ChemValve.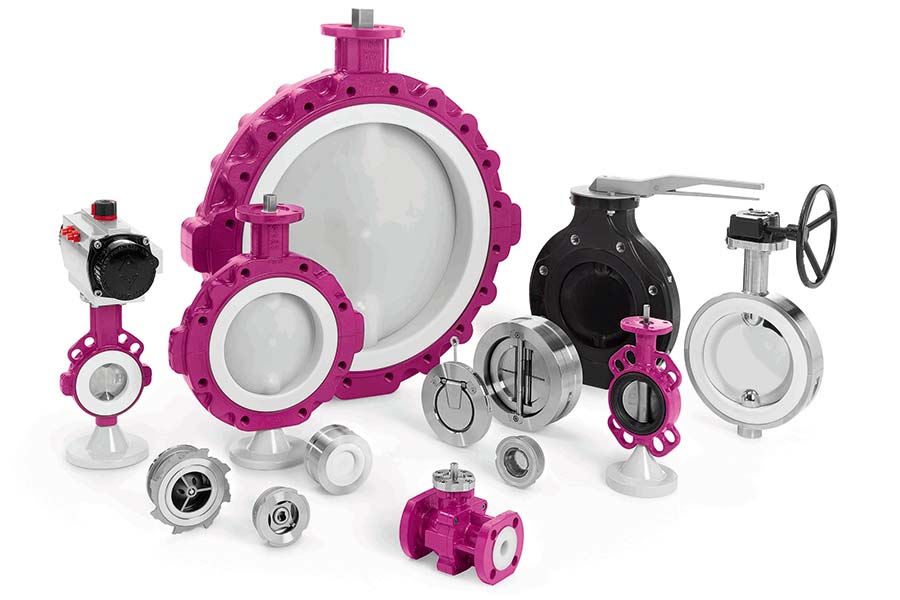 Product range from ChemValve-Schmid. (Image: ChemValve)
B-Cool was tested on a lathe for almost half a year. "We examined the metalworking fluid in various production steps and with different materials. Our employees soon gave the thumbs-up for the changeover as the results were very promising," Allemann explains. The entire production switched to B-Cool.
Big step in planning reliability
The positive results were immediately apparent: "We achieved a significant reduction in metalworking fluid consumption," says Allemann. But the production manager stresses the significantly improved planning reliability, controllability and sustainability, as well as the elimination of employee skin problems. Beat Allemann: "It's hard to find a metalworking fluid that is suitable for so many different materials. B-Cool 755 is an essential step for us; the switch has taken us to a new level. Like our products, Blaser solutions are high quality, reliable, durable and traceable."
As ChemValve operates several new machines, less oil residue now gets into the metalworking fluid than before. But B-Cool itself also makes a significant contribution to the much cleaner machines thanks to its low-foaming and odorless nature. "Whereas in the past we used to have to replace the metalworking fluid frequently, the shelf life is now significantly increased. B-Cool 755 is very easy to maintain and gives us more flexibility. Now we change the metalworking fluid once a year along with cleaning and thoroughly maintaining the machines."
B-Cool also makes a compelling case when it comes to machining quality. Allemann: "Especially with regard to reworking, we see positive effects. Oxidation is a thing of the past, for example, thanks to B-Cool."
Over the last 30 years, ChemValve and Blaser Swisslube have shown how long-term co-operation can be innovative, forward-looking and productive. The two companies are just as far-sighted as they focus on the next 30 years.