Wheel rim manufacturer Vetterolf: Increased quality and productivity thanks to Blaser B-Cool MC 610
Vetterolf Maschinenbau GmbH was founded in 1919. Now run by the fourth generation, the company has a wealth of experience in the production of rims and wheels, has been working with racing teams on the Grand Prix scene for decades, and is an OEM supplier for leading international two-wheeler and automobile brands. After initial discussions with the experts in metalworking fluid from Blaser Swisslube in 2020 and 2021, production made the switch to Blaser's B-Cool MC 610 metalworking fluid. A three-month test phase clearly demonstrated that B-Cool MC 610 enabled Vetterolf not only to produce up to 20 percent faster, but also to sustainably optimize surface quality.
Vetterolf Maschinenbau GmbH has its headquarters at the port of Mannheim, one of the most important inland ports in Europe. The family-run company was established in 1919, and today Jens P. Bögel, great-grandson of the company's founder, heads up this technology company. For many decades, the name Vetterolf has been synonymous with high-quality rims made in Germany. The company has been working closely with racing teams on the Grand Prix scene for almost half a century now, constantly improving the parts it manufactures as one of the most successful suppliers in racing. Vetterolf Maschinenbau GmbH is an OEM supplier for Otto Fuchs wheel rims as well as for well-known two-wheeler and automobile brands – from BMW, Porsche, and Rolls-Royce to KTM. The company's own brand – the PVM rim – is used in numerous sports motorcycles made by Yamaha, BMW, and Ducati. The rims manufactured by Vetterolf impress with their outstanding quality, weight ratio, and rigidity. From construction and design to production, Vetterolf has all the expertise it needs in-house. The plan for 2023 is to achieve an output of 25,000 to 30,000 wheel rims, with the trend rising sharply.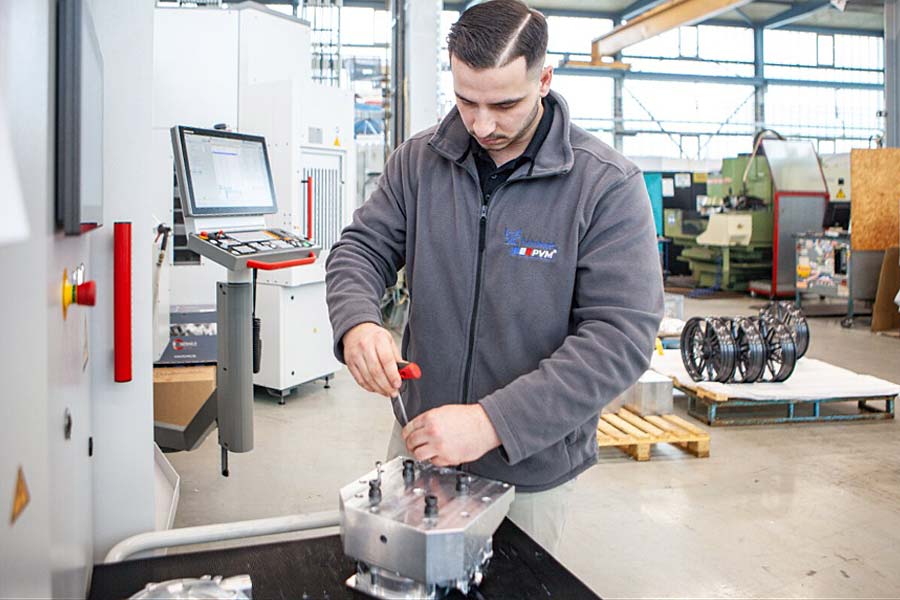 Max Bögel, Vetterolf's authorized signatory.
Marcus Benz, sales representative at Blaser Swisslube, first visited the relevant people at Vetterolf at the end of 2020. In the following months, the existing problems and optimization potential were examined and analyzed with Vetterolf production manager Andreas Richter and authorized signatory Maximilian Bögel. "One of the problems with the metalworking fluid we were using before was a strong odor and sticky discs. We also saw potential for improvement in terms of quality and economic efficiency," recalls Andreas Richter.
Challenging machining processes
Vetterolf produces a wide range of wheel rims. Different machines handle different machining steps. As a rule, the wheel rim is pre-turned on a lathe, then the profile is milled and the thread is formed on a milling machine. In some cases, there is considerable heat build-up and chip formation. Hence, the demands placed on the metalworking fluid were high: versatility, efficiency, productivity, quality, cleanliness.
After a detailed analysis of the materials, tools, machines, and workshop environment, the Blaser experts suggested using the water-miscible metalworking fluid B-Cool MC 610. This chlorine-free product with a low mineral oil content was specially developed for the needs of job shops and is very versatile. B-Cool MC 610 is characterized by high performance, optimal machine cleanliness, low-foaming properties, good rinsing behavior, neutral odor, and good skin compatibility. This all-rounder delivers stable processes, a high cutting performance, and a long tool life in both soft and hard water.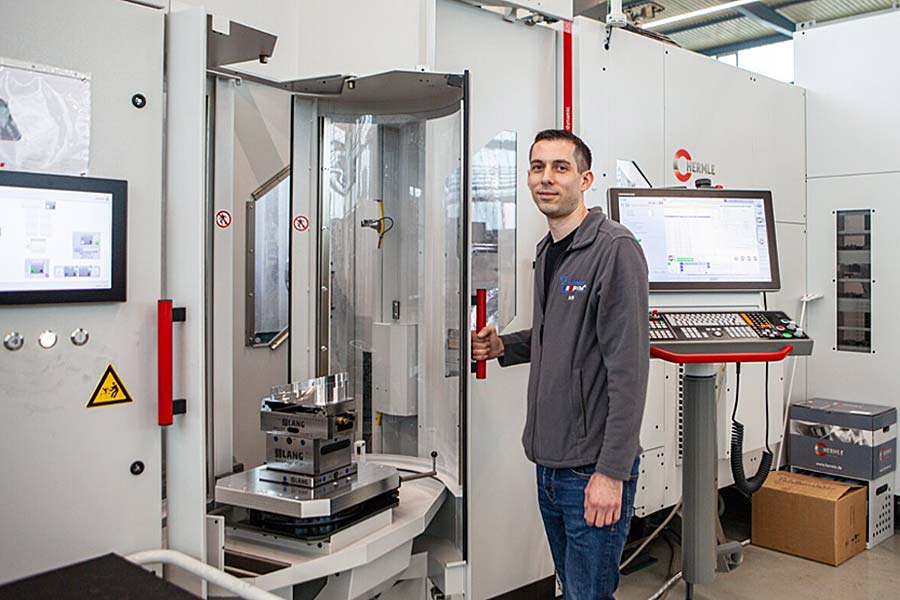 Pleased with the increase in productivity: Vetterolf's production manager, Andreas Richter.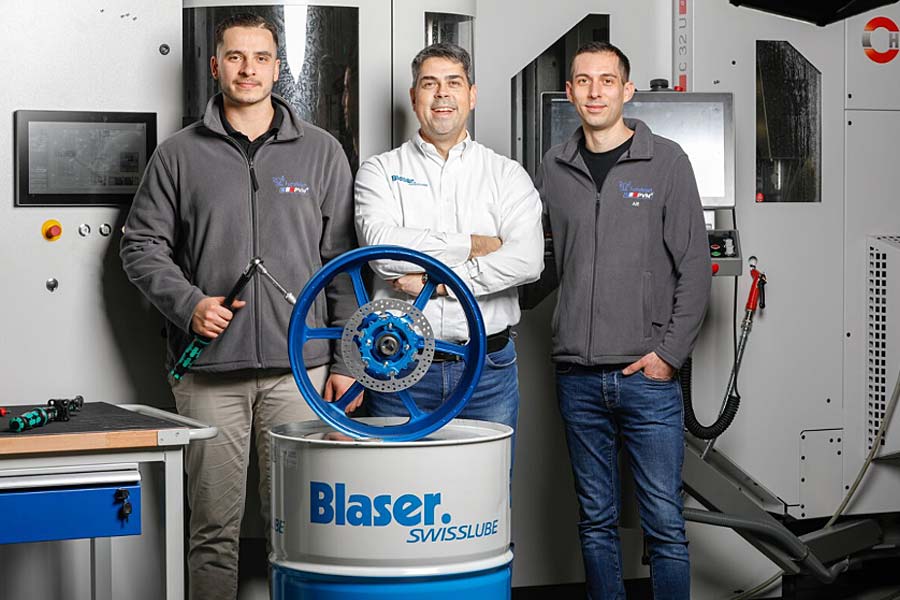 Achieving more together (from left to right in the photo): Max Bögel (Vetterolf), Marcus Benz (Blaser Swisslube), Andreas Richter (Vetterolf).
The new metalworking fluid was subjected to stringent testing in various applications for three months. "First of all, it became apparent that the bad odor could be eliminated and the cleanliness of the machine and components could be improved. The wheels now dried without leaving any residue or stains, which made the finishing work much easier," reports Maximilian Bögel, Vetterolf's authorized signatory. Production manager Andreas Richter adds: "The significantly improved surface quality of the components is a huge benefit. Maintenance work has been reduced because the tools are clean when they come out of the machine. This has increased process security and economic efficiency. We can produce up to 20 percent faster with the new metalworking fluid because there is no need for rework." Last but not least, B-Cool MC 610 offered impressive viscosity and efficient chip removal.
All the machines at Vetterolf have since been changed over to the Blaser metalworking fluid. Blaser sales representative Marcus Benz explains: "By working as a team with the Vetterolf specialists and by analyzing all the factors in the production process, we managed to find the ideal metalworking fluid for the customer. This holistic analysis of every detail is vital in turning the metalworking fluid into a Liquid Tool that has a positive influence on the entire production process."
Vetterolf and Blaser Swisslube aim to stay on the path of innovation together in the future. Further automation steps, robotics, and Industry 4.0 solutions are planned in Vetterolf's production. The right metalworking fluid and its automated management can also continue to make an important contribution to optimum efficiency and quality in the future.