Combined expertise offers optimum process security
A special kind of cooperation was witnessed in Baden-Württemberg in 2020-2021: Machine builders F. Zimmermann GmbH, tool experts from Mapal and metalworking fluid specialists from Blaser Swisslube, came together to work as an expert team to ensure the reliability and efficiency of a machine concept developed for machining titanium. The expertise of all those involved meant that it was possible to increase the service life of the tools used for titanium machining by a factor of seven, while at the same time guaranteeing process security.
Neuhausen auf den Fildern is a small community about 4 kilometers east of Stuttgart Airport, where F. Zimmermann GmbH, founded in 1933, has its headquarters. Around 180 employees work at Zimmermann. The company produces milling machines and horizontal machining centers for the automotive and aerospace industries. The centerpieces of Zimmermann machines include, among other things, the patented milling heads that are produced in-house. The specialist offers a suitable milling solution for every system concept and every material, as well as requirements in terms of metal removing rates and surface quality.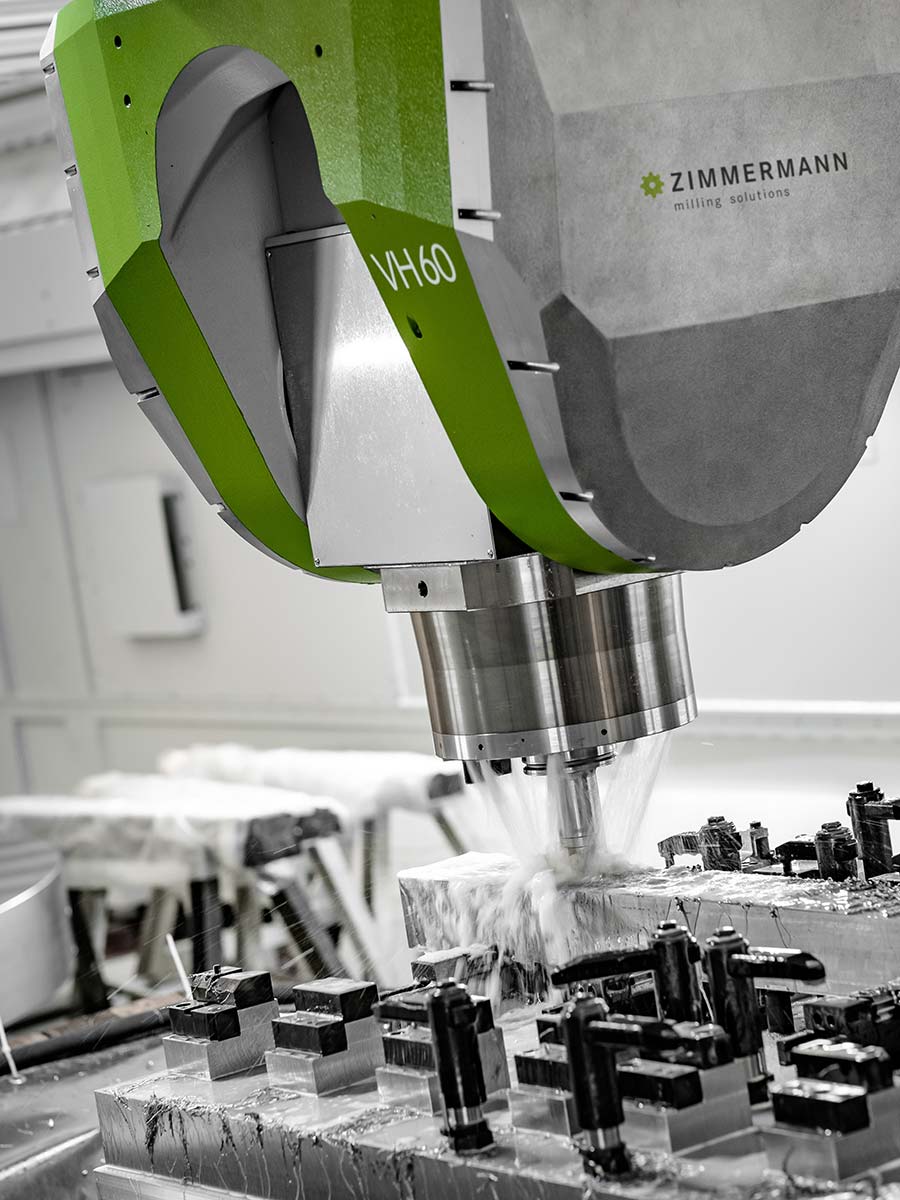 The combined expertise of the F. Zimmermann, Mapal and Blaser companies ensures optimal process reliability in titanium machining.
"We recognize our particular strength in large, complex machines that can be individually adapted," explains Steffen Nüssle, Export Sales Manager and Head of Application Technology at Zimmermann. "You'll find Zimmermann machines wherever there is a need to process large-volume components." Around 95 percent of the systems are "Made in Germany", and most of the company's suppliers are located within a radius of just 80 kilometers.
Mapal has its headquarters within this 80-kilometer radius, a little further to the east of Baden-Württemberg, in Aalen. Looking back on a 70-year history packed with innovations, Mapal has long established itself as one of the world's leading suppliers of precision metal cutting tools. Mapal is the global technology leader in the machining of cuboid components. The company's key data make impressive reading: 5,000 employees, branches with production, sales and service in 25 countries, more than 450 technical consultants in the field, more than 300 trainees worldwide
Individual production for titanium machining
In 2020, experts from machine builder Zimmermann, tool manufacturer Mapal and Blaser Swisslube joined forces on a special project. The goal was to build an individually configured machine for the production of titanium aircraft components for delivery to Asia by the end of 2021. What made the project special was the TA15m titanium alloy, for which no empirical values were previously available. "The target was to deliver not just a machine, but a turnkey solution with a long-term, stable process, including fully tested metalworking fluid and optimum tools," explains Steffen Nüssle.
The three companies pooled their expertise to achieve this ambitious goal. Steffen Nüssle: "We had previously cooperated with Blaser Swisslube on a very successful aluminum machining project. We were very satisfied and achieved excellent results, so intensifying the partnership was the logical next step." Discussions with the tool experts from Mapal quickly made it clear that Mapal could also make a decisive contribution to the success of the project. "Line boring is a core area of expertise of the Mapal company, which is why Mapal was the ideal tool partner," explains Nüssle.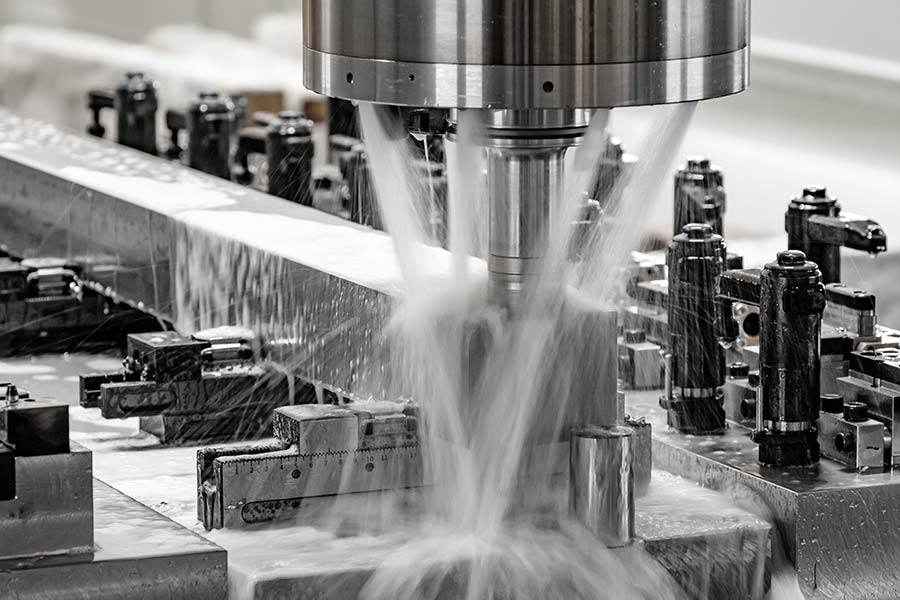 Mineral oil based B-Cool 755 is impressive for its optimum rinsing behavior, clean machines and good human compatibility.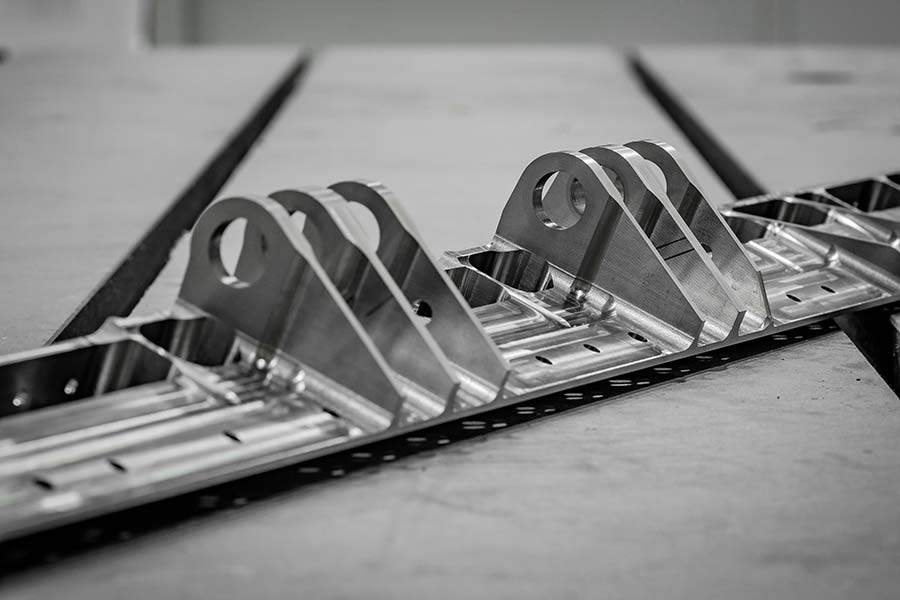 B-Cool 755 ensures optimum surface quality.
Minimizing risk by choosing the right partners
The intention was that the cooperation of the three companies in an "expert team" would not only achieve the best possible machining performance, but also optimum process security, reliability, and long-term stability. In addition, good surface quality and maximum bio-stability had to be assured. Easier said than done: Titanium is a challenging material and to date, there has been no information on this particular titanium alloy along with limited testing opportunities. "We needed to minimize the risk, which is why we brought partners on board with whom we were confident that the objective could be achieved. This expert partnership was the key to success," explains Steffen Nüssle.
After detailed analysis, Blaser sales representative Gerd Schilling recommended metalworking fluid B-Cool 755. Schilling explains: "B-Cool 755 is a water-miscible, chlorine-free metalworking fluid based on mineral oil that offers high performance and optimized surface quality. The product is characterized by low foaming in hard and soft water, good stability, good ferrous corrosion protection properties and low consumption. It is very well suited for titanium machining and is of course also available in the Asian markets through our subsidiaries." If a machining fluid is optimally matched to the process, machine, tools, materials and environment, it can significantly increase overall productivity. The metalworking fluid thus becomes a central success factor – a Liquid Tool TM. Bernd Scheurenbrand, long-serving application engineer at Zimmermann: "People often underestimate how significantly the right metalworking fluid can influence a machining process."
Significantly extended tool life
During the test phase it became evident that the combination of metalworking fluid, material, tool, machining strategy, and machine stability meant that the service life of the tools could be extended from the usual one hour to up to seven hours. "This underlines how important a holistic approach is because many factors play a role," emphasizes Jens Ilg, component manager at Mapal, who is responsible for titanium and stainless-steel components. "We tested our tools with the Blaser metalworking fluid and carried out a wide variety of machining operations. This enables us to ensure that tools, metalworking fluids and machines are a perfect match. Thanks to the threefold expertise and the close cooperation between Zimmermann, Mapal and Blaser Swisslube, it was possible to generate real added value for the end customer, while also maximizing process security."
Following this extremely successful cooperation, the three companies are already focusing on new challenges and future projects: a turnkey project for a horizontal machining center for the aerospace sector is already in the pipeline. The machining of composite materials, automation measures, or the further development of digital services under the heading "predictive maintenance" are other areas in which cooperation is being considered with the aim of optimizing long-term process security and reliability by sharing ideas and competencies.