RCM Estech & Blaser: "We've come further than we originally intended."
Sticky residue on parts and machines as well as a suboptimal coolant service life were problems that precision manufacturer RCM Estech AG in Burgdorf, Switzerland, reported when it contacted the metalworking fluid specialists at Blaser Swisslube. After a detailed analysis and a successful test phase, the company switched to the versatile metalworking fluid B-Cool 610. The results are impressive: The coolant life has more than doubled, stickiness is a thing of the past, and human compatibility has been improved on a lasting basis. In the future, RCM Estech, working together with Blaser, plans to introduce automated refilling and dosing of the metalworking fluid.
RCM Estech AG became part of Estech Industries in 2008. The company is known for high-performance machining of high-strength materials on modern metal-cutting machines. Components for cars and engines, thin-walled parts with high shape and position tolerances, gears, and other precision parts are manufactured in the precision manufacturer's shop buildings. On the one hand, this versatility is a real asset for RCM Estech, but also a particular challenge when it comes to choosing metalworking fluid. "From machining aluminum at high speeds to high-strength, forged steel, we face a massive range of materials to be machined. Likewise, the demands on the metalworking fluid are equally high," emphasizes Dominik Böhlen, Safety Officer and Maintenance Manager at RCM Estech.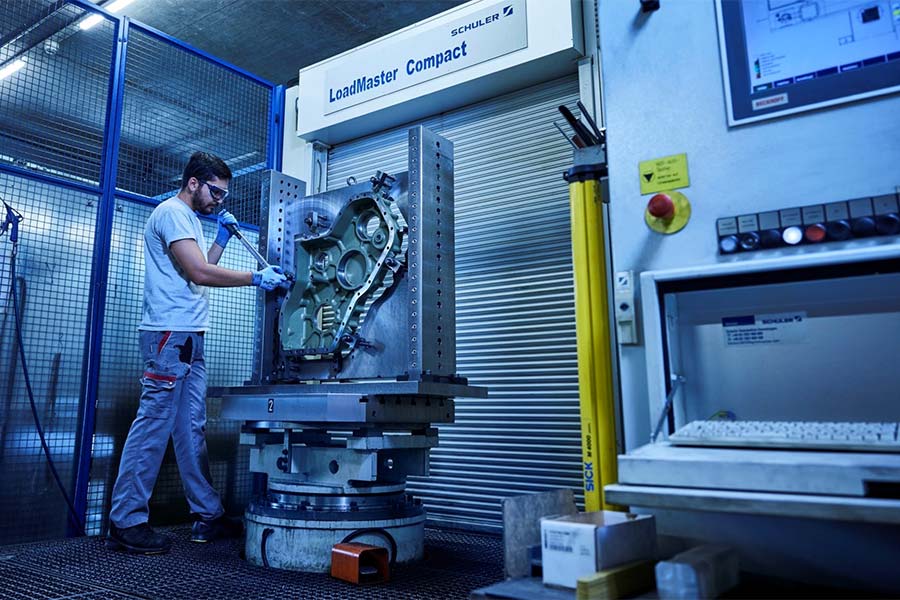 The previous metalworking fluid used was unable to meet these high requirements. There was sticky residue on parts and machines, especially on the filters of engines and electrical installations. "The greater the evaporation, the greater the susceptibility to stickiness. Maintaining the service life of the metalworking fluid became a real problem," explains Dominik. "This dragged on for a long time. We were forced to change our metalworking fluid at least once a year and, on some machines, even every six months."
It was hardly surprising that those in charge at RCM Estech went looking for alternatives. They found the solution right on their doorstep: The headquarters of global metalworking fluid experts, Blaser Swisslube is less than a 15 minutes' drive away. Dominik Böhlen: "We have a leading metalworking fluid specialist just around the corner, so it was obvious that we should contact them. This was not just because of Blaser's expertise and products, but also because of the opportunity to optimize travel distances and delivery times."
Initial talks were held in 2020. Blaser's team of experts, led by technical sales consultant Martin Haas, visited RCM Estech to take a closer look at production conditions. No stone, no matter how small, was left unturned: machines, machining processes, tools, water quality, workshop environment. Following laboratory analyses and discussions, Blaser Swisslube recommended a test phase with the water-miscible metalworking fluid B-Cool MC 610. "A chlorine-free product with a low mineral oil content, specially developed for the needs of job shops. When it comes to machining a wide variety of materials, B-Cool MC 610 delivers high machining performance and flawless surfaces and does not form any residue," explains Blaser sales consultant Martin Haas. Even with sensitive aluminum alloys, B-Cool MC 610 ensures flawless surfaces. In addition, the all-rounder guarantees excellent filterability. Martin: "Advantages include high machine availability and a long service life, no residue and low consumption thanks to excellent rinsing behavior, suitability for all types of water, and suitability for systems at a high risk of bacterial growth. In short, the B-Cool MC 610 is very robust and stable. "Neutral odor and good skin compatibility increase work safety for employees.
A test phase was launched involving two machines with the aim of sustainably increasing process reliability. "We chose one machine on which we carry out a wide range of machining processes and one on which we had problems with the service life of the metalworking fluid," reports Dominik Böhlen. The success of the test phase was immediately evident. "Machining quality, avoidance of residue, stability of the metalworking fluid — everything worked straight away." The goal of achieving a service life of 1.5 years for metalworking fluid was clearly exceeded at more than two years. Skin compatibility is also much better than with the previously used metalworking fluid. At the end of 2020, all production was switched to the Blaser product. "The doubling of the metalworking fluid service life is great, of course. We had many requirements, and all of them were exceeded. We've come further than we originally intended," says Dominik Böhlen with satisfaction.
Blaser and RCM Estech work together very closely: Every one or two months, Blaser employees visit the company, check every machine, and assess the metalworking fluid. A sensor measures the metalworking fluid independently and saves all measurement data. For the future, RCM Estech is considering automated refilling in cooperation with Blaser Swisslube. Dominik Böhlen: "We see great potential here, on the one hand due to the time savings, and on the other hand in terms of quality due to the precise dosing of the emulsion."