Technology speeds development of highly effective metalworking fluids
Technology Center in Switzerland
Blaser Swisslube's experts are bringing efficient coolants to market. But not before the products are subjected to in-depth performance tests at the Blaser Swisslube Technology Center. The testing equipment now includes a microscope camera for measuring tool wear and the spike sensor system from pro-micron for measuring cutting force. This allows for faster collection of meaningful data that is of benefit to the user.
How do you end up with an optimal coolant? Often more than a dozen ingredients are required, including oils, emulsifiers and additives. These sophisticated formulations from Research & Development are combined with the manufacturing expertise of machining technologists. Blaser Swisslube has relied on the collaboration between both disciplines for some time now. "Only if our chemists are able to get to know the coolant on site as part of a performance test and then interpret the data acquired by the manufacturing technologists, are we able to make great progress in coolant development," explains Marc Blaser, CEO of Blaser Swisslube, with respect to the process.
Blaser's Competence Center
Blaser Swisslube's inhouse Technology Center has been undergoing gradual expansion for more than 10 years. Currently, the facilities house six CNC machines, including a state-of-the-art grinding machine, and cover an area of more than 1,500 m2 (16,000 sq ft). New developments are tested here, and customers' production situations are simulated under close-to-reality conditions.
In order to carry out meaningful wear tests and interpret the acquired data correctly, Blaser Swisslube depends on highly precise measuring devices and sensors. Key parameters here are the flank wear (vB,max) and the maximum cutting force (Fmax). The flank wear is now measured in a fully automatic process directly in the machine by means of a wear camera. The cutting force is measured directly in the tool holder using the spike sensor system.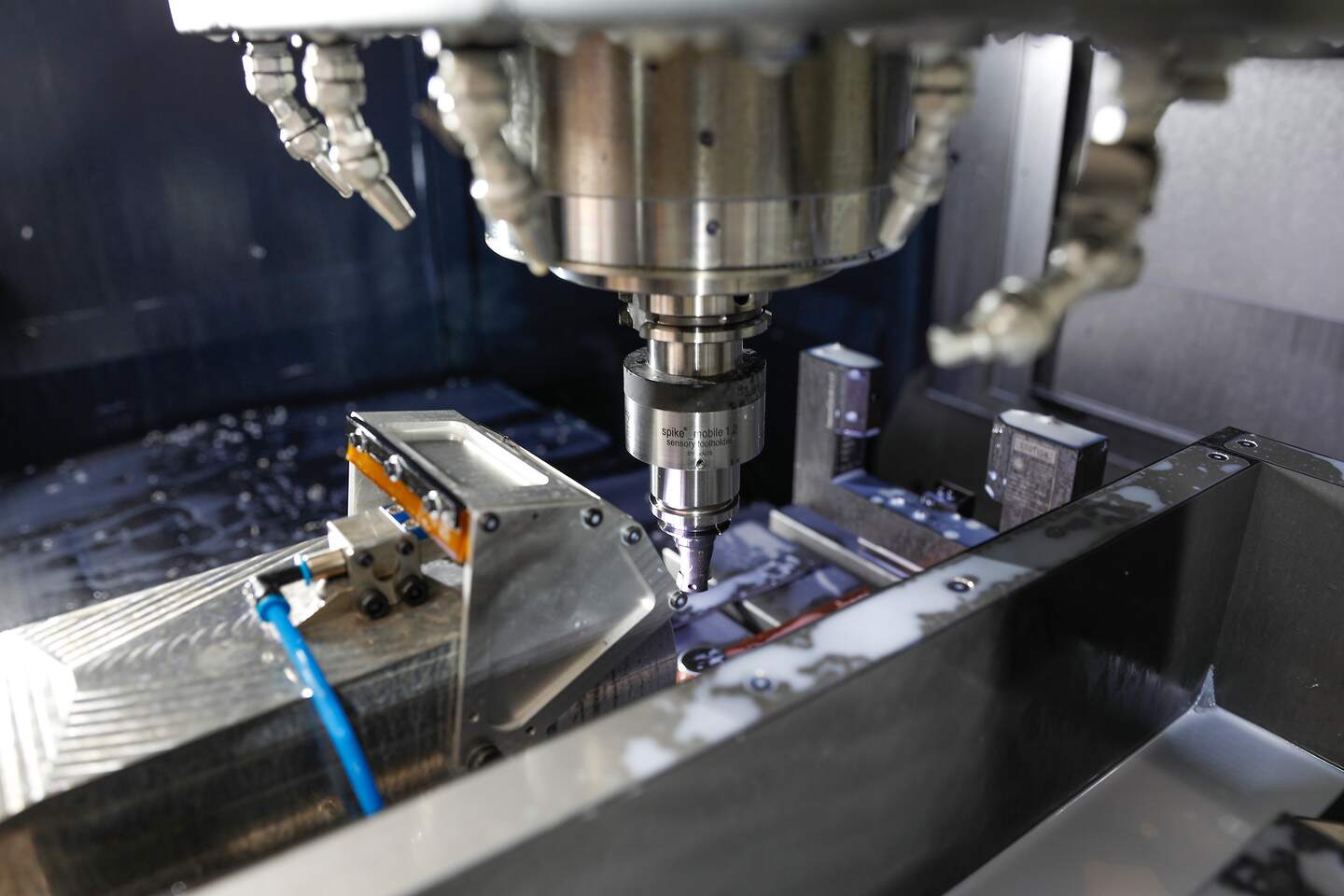 Get to the bottom of tool wear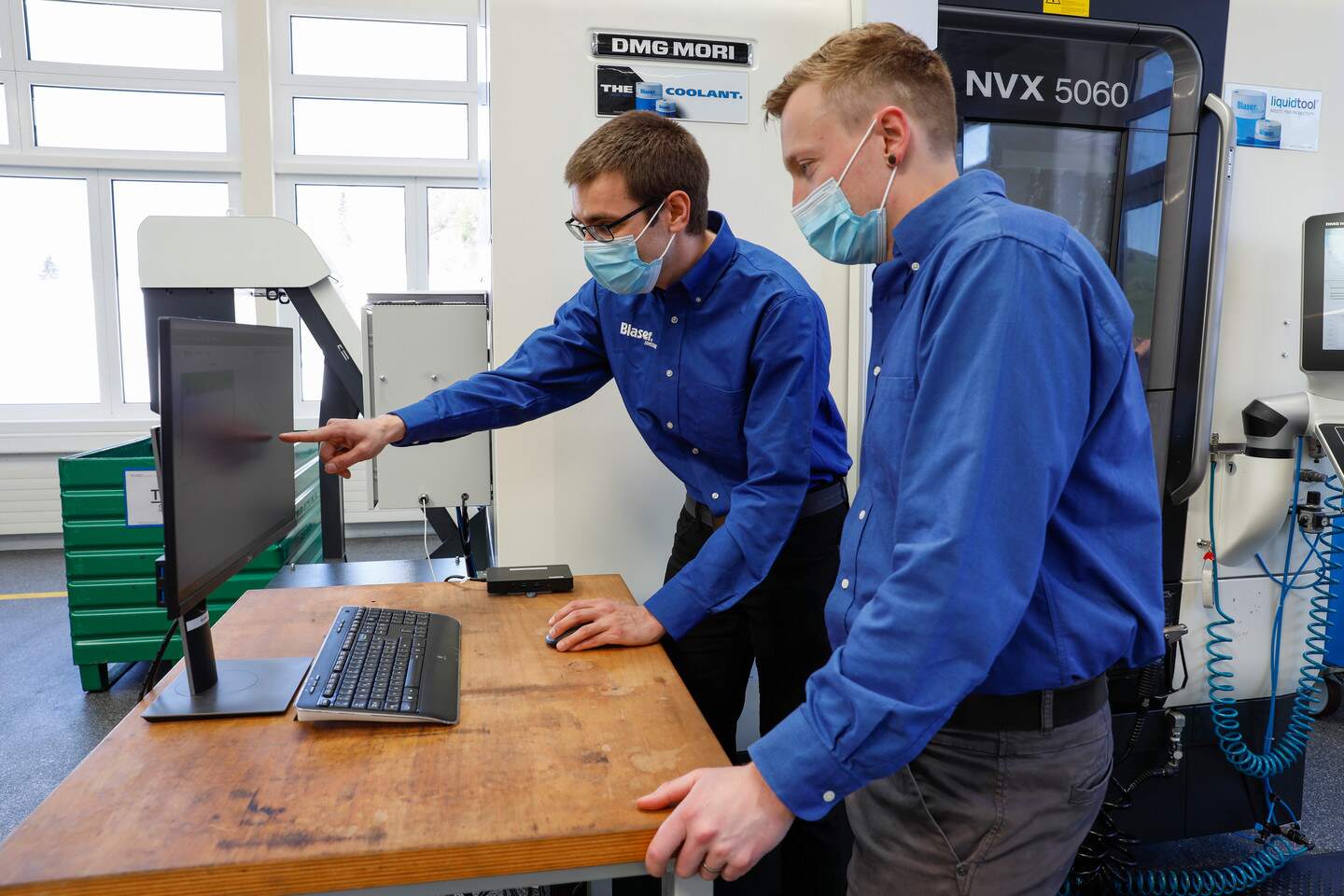 Dr. Linus Meier and Tobias Mathys discussing the test results
Meaningful data collection
"With this machine, we can feel out the tool wear," says Tobias Mathys, Process Engineering Manager at Blaser Swisslube, with a smile, pointing to the Technology Center's DMG Mori NVX 5060. This CNC machine is dedicated to coolant development at Blaser. It is equipped with a wear camera — an industry camera that is protected in its own specially dedicated housing. This protects the camera from the coolant, which can sometimes be injected to the machining area at high pressure. A pneumatically controlled cover keeps the lens dry during machining. During the wear tests, microscopic images of the cutting insert are captured once every two minutes, enabling flank wear to be automatically calculated. Dr. Linus Meier, a tribologist at Blaser Swisslube, explains: "Tool wear, which manifests itself through tool breakage, mass deviations or unacceptable surfaces, often limits the economic efficiency of a process. With the new measuring options, we receive more information, directly from the machine, in a short amount of time. This makes us more efficient and allows us to quickly consolidate meaningful information from the cutting edges. The microscopic images of the wear in relation to vB,max and Fmax are consolidated and visualized for every cutting edge of the milling cutter."
A lot is expected of the machine, the tool and also the coolant when used together as part of a critical process. "Thanks to the optimized data flow, I can read the results of the performance tests from the Technology Center and understand them better. Changes to the coolant in the laboratory can be implemented more quickly and easily as a result. Our customers also benefit from this," explains Dr. Olivia Bossart, chemist in Research and Development at Blaser Swisslube.
High-performance coolants offer high savings potential in production, from increases in productivity to a decline in tool wear. "Our aim is to offer users added value with our coolant solutions so that their production processes can be made even more productive," concludes Marc Blaser.