Blasomill 15 as a Process Optimizer for Häni & Co. AG
While analyzing potential ways to optimize processes, the decision-makers at the precision turned parts manufacturer Häni & Co. AG, Arch, Switzerland met up with the coolant specialists from Blaser Swisslube. The reason for this was contamination in the oil used, whose provider urgently recommended an oil change. After closely examining the processes together, Blaser Swisslube recommended using the high-performance cutting oil Blasomill 15 as a hydraulic oil. Today, the Häni team is delighted to report longer tool life, fewer rejects, minimized downtimes, greater process security, and considerable cost savings.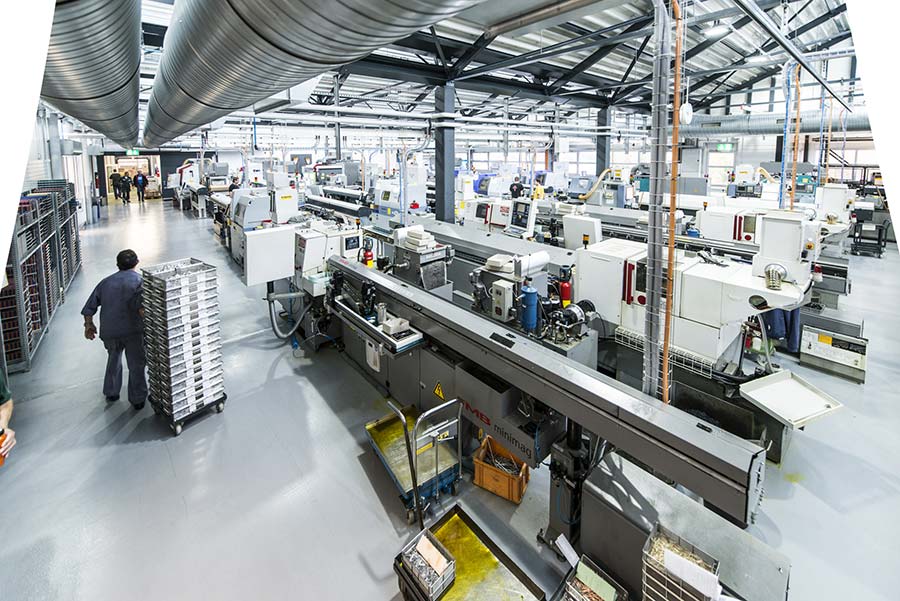 View of the Häni & Co. production hall
Häni & Co. AG, headquartered in Arch in the canton of Bern, employs 100 people and specializes in the manufacture of high-precision turned parts. The family business, founded more than 80 years ago, produces both small series and large-scale orders to the highest accuracy and quality. The experts at Häni often support their customers from as early on as the development phase, and have specialized expertise in materials science and manufacturing technology. The modern machinery allows Häni great versatility: all alloyed or unalloyed steels, copper alloys, aluminum as well as titanium and plastics are machined – no matter whether round, square or hexagonal material. The precision-turned parts are manufactured for customers in the automotive or medical technology industries, for example, but also in the electronics, aerospace, chemical industries and in telecommunications.
When Rolf Vogt, Head of Quality Management at Häni, spoke with Blaser application engineer Martin Haas, the first thing they discussed was the oil change recommended by the manufacturer. This was because the oil currently used was contaminated. Since it had come into contact with tramp oil, the process had been significantly hampered in terms of both performance and stability. As part of a detailed on-site analysis, tool life optimization potential was also determined later on.
Together, they examined the production process and formulated clear improvement goals: while topping up with fresh oil was necessary for complex parts up until now due to the poor condition of the oil, the sump life should be prolonged by ensuring a consistently high quality over a long service life through planning and monitoring. A longer tool life should reduce tool costs in the long term. In addition, machine downtime and cycle times should be minimized, and skin compatibility improved by adapting the skin protection concept.
Performance, flexibility, human compatibility
"With regard to the production processes, the mix of materials machined and the tools used, we recommended using the high-performance cutting oil Blasomill 15 as a hydraulic oil," explains Martin Haas, application engineer at Blaser Swisslube. According to Martin, the switch should go hand in hand with regular laboratory analyses, targeted oil management, and the use of performance additives. Blasomill 15 was developed for machining stainless steel, rusting steel, acid steel and heat-resisting steel, titanium and all non-ferrous metals. Martin Haas explains: "The mineral-oil based high-performance cutting oil is also suitable for a range of applications – from milling, gear hobbing, drilling, conventional and automaticturning, tapping, broaching and reaming, through to sawing."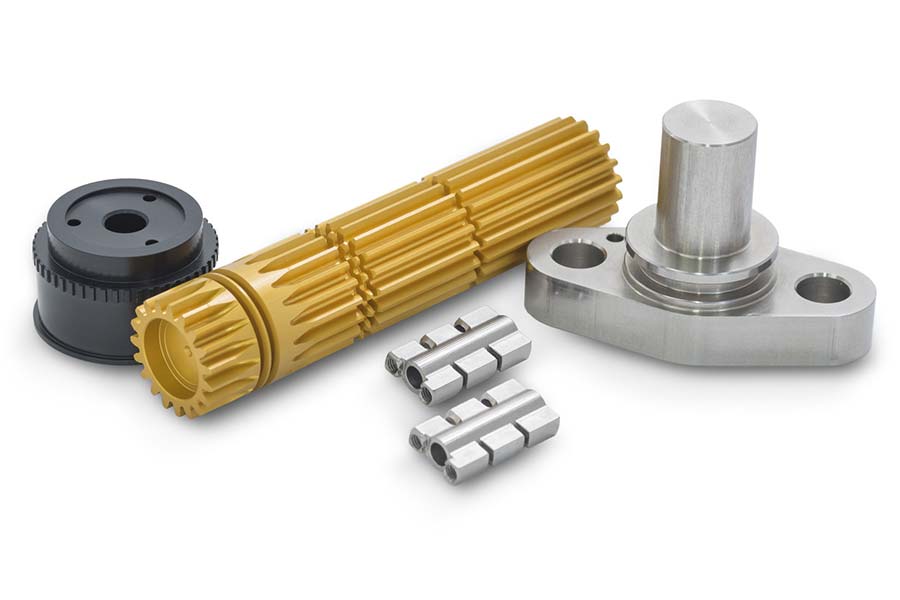 Parts produced by Häni & Co.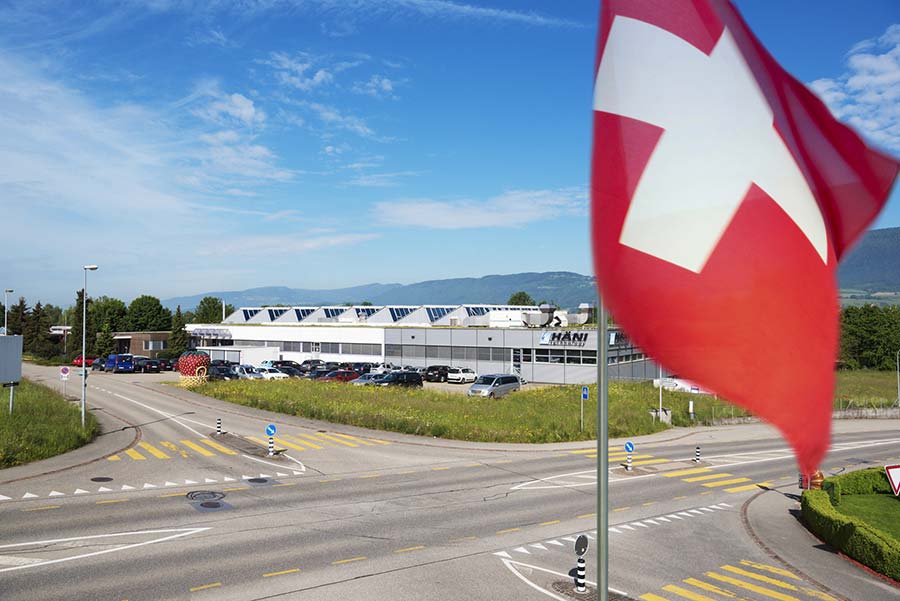 Häni & Co. headquarters in Arch, Switzerland
Passed with flying colors
Blasomill 15 underwent an extensive testing phase. Two machines were emptied, rinsed and filled with the new cutting oil. Blasomill 15 passed the test with flying colors. "A significantly longer tool life, fewer rejects and a longer coolant service life have boosted productivity considerably – for a single machine, we are seeing savings as a result of the lower tool and coolant costs of up to CHF 8,500 a year," reports Rolf Vogt, clearly more than satisfied.
An improvement was seen not only in terms of economic factors, but also with regard to employee safety. Employees can protect themselves from skin irritation by using spray-on gloves.
Through professional monitoring, quarterly laboratory analyses, targeted viscosity management and by topping up with performance additives, it has been possible to sustainably optimize process security. The specialists at Häni and Blaser are in regular dialog with one another in order to improve production processes. What's more, Blaser's experts have trained the machine operators and in doing so created added value over the long term.