Synergy 735 – convincing in regards to maintenance and better view of the machining operation
Components processed at Yida Precision Engg. using Blaser's Liquid Tool
Cleaner machine, oil free coolant and better maintenance? Steven Boh was very keen to know more about the new Blaser development Synergy 735. Especially the easy maintenance of the coolant and the possible improvements in the workshop were tempting. After a test-run, he switched all of his 17 machines to the new synthetic coolant. Longer tool life and a cleaner workshop stand out.
Established in 2006, Yida Precision Engineering is an ISO-certified company operating from a 6,000 square feet facility and supports customers with cost-effective, time-sensitive and quality assured precision engineering solutions. The Singapore based company is employing around 50 people and is serving industries like Oil and Gas, Aerospace, Semi-Conductor as well as consumer electronics. Yida Precision Engineering always thrives for continuous improvement and serves their customers in the best possible way.
Taking in account all parameters
The responsible on-site Blaser contact, Johnny Chia visited Yida Precision Engineering. "At the customer site, first we evaluate the given parameters such as water quality, materials to be machined and the processes. Then we recommend the appropriate coolant solution, "explains Johnny Chia the typical Blaser-approach. As the Blaser experts were convinced, that the new Synergy 735 is the perfect match for Yida Precision, they convinced Steven Boh for a trial.
Steven Boh is a long-time customer of Blaser's and knows what an important role the optimal coolant plays. Before he decided to test Synergy 735, he was using an oil-based product. He was keen to experience the Synergy 735, which Blaser Swisslube recommended to him. So, the first machine was filled. Over a period of four weeks, Steven Boh and his team tested the new coolant in-depth.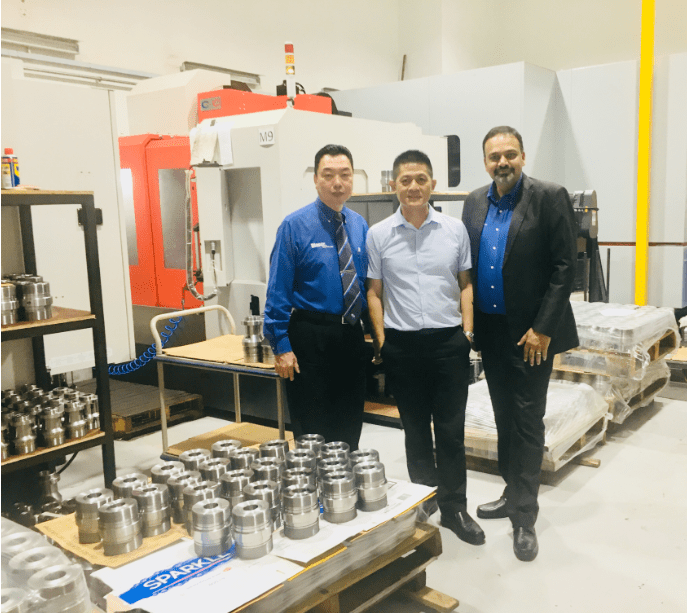 Blaser Swisslube representatives at Yida Precision Engineering
Convincing results with Synergy 735
"Synergy 735 convinced us with easy maintenance, better tool life even for exotic alloys. Better surface finishing and better visibility trump up. As the color of the coolant is transparent, we have a better view of the operation," explains Steven Boh. But that's not all. He also saves money due to the lower concentration of Synergy 735. Thanks to the ideal formulation of Synergy 735, the coolant ensures long-term cleanliness of the machine. Also, the operators profit from a cleaner workshop. "With the new coolant solution, we were able to improve our competitiveness towards players from other countries", said Steven Boh.
Not only did Synergy 735 prove itself, but the continuous amazing customer service from Blaser Swisslube did as well. Therefore, the company switched all remaining 16 machines to Synergy 735. Blaser not only helped in regards to the coolant, but also gave Yida Precision Engineering valuable advice in regards to machining strategy and programming. "We look forward to continue working together. I am a very happy Blaser customer and can warmly recommend Blaser Swisslube," Steven Boh closes.
The Liquid Tool by Blaser Swisslube
Productivity, economic efficiency and machining quality are factors that critically depend on the choice and the quality of the metalworking fluid. "With our profound know-how and experience, customized services and excellent products, we help our customers to fully capitalize on the potential of machines and tools and to turn the metalworking fluid into a key success factor – a Liquid Tool," says Marc Blaser, CEO of Blaser Swisslube.
The story was published in the magazine Equipment News in December 2019.
Would you like to get more out of your production process? Get in touch with us!