Cutting and grinding fluid tests – how we test in the Technology Center
The Research and Development laboratory at Blaser Swisslube
At Blaser Swisslube, we have been testing our cutting and grinding fluids in our in-house Technology Center using the latest generation of CNC machines since 2009. There are many factors to consider in these experiments. The most important thing, however, is a clean and very precise approach. A good cutting and grinding fluid has many features. In my series, I'm going to explain what needs to be considered when performing tests on cooling and grinding fluids. In the first part, I'm going to talk about materials and tools. A good cutting and grinding fluid has many features. In my series, I'm going to explain what needs to be considered when performing tests on cooling and grinding fluids. In the first part, I'm going to talk about materials and tools.
Several departments work together when a new cutting and grinding fluid is developed. On the one hand, there is our Product Management team, which assesses market requirements and orders new products for development on this basis. On the other hand, there is our Research and Development laboratory. Here our chemists work tirelessly on increasingly powerful, stable and compatible products. Last, but not least, we are pleased when we receive practical feedback and suggestions from our Customer Service, which we then use in further development.
Cutting and grinding fluid tests – evaluation of strengths and weaknesses
Of course, all chemical and biological features, as well as human and environmental compatibility, are recorded in the laboratory. The data already covers a very wide range of information. Performance in different materials can be estimated effectively using the tribological parameters. However, the tests in our Technology Center are vital in order to assess effective performance in practical machining applications.
But what does performance mean in relation to a cutting and grinding fluid?
One of the most important features is the influence on tool life with consistent parameters. In order to reliably determine this influence, we need to call on our extensive experience, our modern infrastructure and our ability to work with ultimate precision. The only factor that can change from test to test is the cutting and grinding fluid.
In order to get closer to the customer and everyday practice, we have had our own Technology Center since 2009 where I'm part of the team. Here we carry out practical cutting tests with a wide variety of materials and processes on the most modern CNC machines. Our main operations are turning, milling, drilling, reaming, thread cutting and grinding.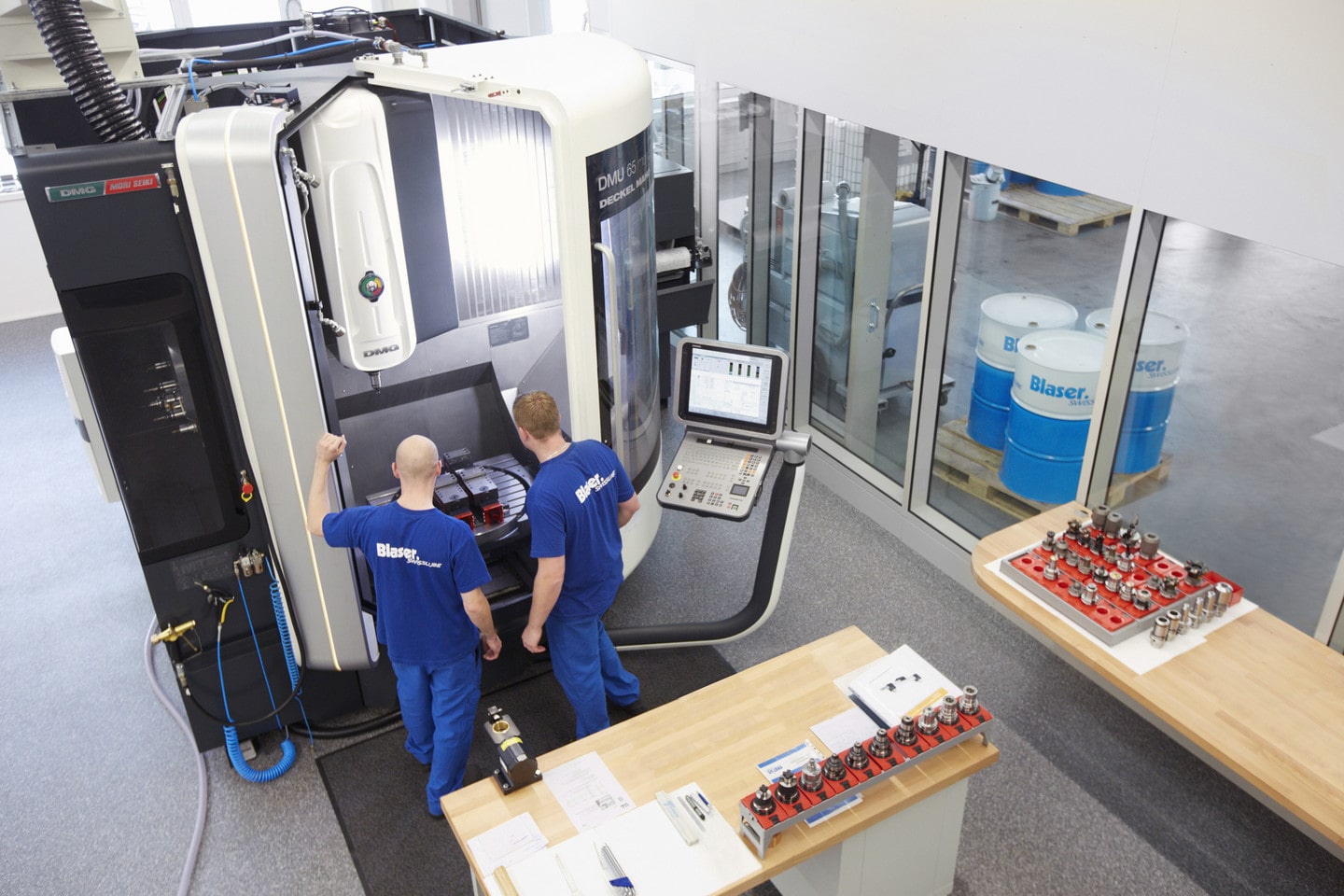 The Blaser Swisslube Technology Center
We draw a fundamental distinction between two types of tests that we carry out in the Technology Center. Firstly, there are internal, standardized tests for the new or further development of cutting and grinding fluids, which enable performance to be classified. Secondly, we also carry out customer projects in which we reproduce a specific problem and seek the optimum solution for the individual case.
This multi-part series offers you an insight into the things we look for in our standardized milling tests in Product Development in order to obtain reliable data.
This part is about the materials and the test tool used.
Different materials for different segments
We test our cutting and grinding fluids on the most common or problematic materials used by our customers:
We, therefore, carry out standard tests on the following materials: aluminum, stainless and heat-treated steel, titanium, Inconel 718 and cobalt chromium. This mix of materials covers a large number of applications.
In order to achieve an exact and reproducible result, consistent raw material quality is vital. That is why we always obtain a large stock from the same batch. This way we can eliminate even the smallest differences that can may arise during production. In addition, we use a mobile measuring device to check the hardness of the materials. This enables us to ensure that the machining conditions are always identical. It is also important to purchase goods from the same supplier in order to be able to guarantee the same quality over a long period of time.
Reproducibility over sump life
Things are similar with the tool. We don't necessarily use the best tool, but rather the one that delivers the most reproducible sump life. The same applies to the cutting parameters. Reproducibility is more important in our cutting and grinding fluid tests than maximum sump life or highest productivity. However, it is always our aim that the machining parameters should still be practical and that all three criteria mentioned should be combined as far as possible.
In consultation with the tool manufacturer, we have carried out many tests in order to determine the most suitable indexable insert for each material to meet our requirements. As with the material, we also procure a large stock of tools. The way in which the tools are clamped is also important, with the main focus on run-out. Since we work with indexable inserts, the base body always remains clamped and only the turning plates are changed. We make sure that the run-out deviation of the cutting edges is not greater than 0.006 mm. In this way we can prevent premature fatigue in a cutting edge.
The second part of the series will be devoted entirely to cutting and grinding fluids.