Achieve tool cost savings and stable processes in the medical industry
Shop floor at Sigma Surgical
Sigma Surgical in India experienced the leverage effect of the optimal coolant on the productivity: They were able to reduce tool costs by almost 50 percent and achieve a stable process with Synergy 735 and Vascomill CSF 35.
Sigma Surgical, located in Ahmedabad, is an upcoming leader in the Indian medical implant and surgery instrument sector. They produce bone screws, bone plates, hip and knee joints and more out of Titanium and Stainless Steel (316 LVM) as well as surgical instruments. Known for high quality implants, Sigma surgical was founded by Mr J J Gothi in 1998 with just 3 employees. From there the company has grown by leaps and bounds. Now under the leadership of Mr Mehul Gothi and his vision of providing international quality implants at affordable price to Indian customers, Sigma Surgical is set for the future with their state-of-the-art facility.
To provide more high-quality products, the decision makers at Yuhuan Jingrun wanted to focus on improving the product quality while at the same time optimizing the overall cost. Mr. Dasheng Zeng, the responsible production supervisor, explains: "We had the issue of high tool costs because of a too low tool life. The production efficiency and machine utilization did not meet our expectations. We set the goal to create a reliable and highly efficient process, increase the tool life and improve the production efficiency." At the same time, Yuhuan Jingrun aimed to reduce the cost of the metalworking fluids.
Yet they've experienced issues with their previous coolant. They did not have a stable process and fighted with unpredictable tool wear. "The unpredictable wear of inserts at Sigma Surgical was varying to an extend which did not allow them to plan and work properly. There was also a gap as some tools showed a higher tool wear than others. This resulted in component rejection and affected the productivity negatively" explains Amol Pawar, responsible Sales representative from Blaser Swisslube the issues. "Amol Pawar explained to us how to analyze the production situation and what we can expect further down the road in regards to optimization and cost savings", explains Mehul Gothi, Director at Sigma Surgical.
He trusted in the comprehensive Blaser approach as he was looking for a long-term relationship and a technology leading partner. So he gave his agreement to run a test with the Blaser coolant solutions. The produced part for the test was a Twin Lock BCP Screw made of Titanium.

Produced Component Proximal Tibial Plate at Sigma Surgical
Holistic approach of Blaser
Taking a holistic view on the production process, the Blaser coolant specialist recommended to perform the tests with Vascomill CSF 35 on the Swiss type turning machine and Synergy 735 on the 5-Axis VMC. From his experience he knew, that Vascomill CSF 35, a specially designed cutting oil, will be great for this turning application in the medical segment. Vascomill CSF 35 is very low in emissions and ensures a very clean working environment. A clean working environment is important to Mehul Gothi. "Synergy 735 is an innovative formulation which outstands with an excellent surface quality and extremely low foaming" explains Amol Pawar from Blaser Swisslube India.
With Synergy 735 the tool life of the drilling application on the 5 Axis machine was raised from 8.5 to 13.7 meters. Before the change to Vascomill CFS 35, the tool life on the Swiss type turning machine was varying from 57 to 72 meters. Afterwards 120 meters were achieved consistently. The increased and consistent tool life resulted in overall cost savings of 2.5 Million INR per year. An investment that pays off. Even though the coolant costs of Vascomill CSF 35 and Synergy 735 are higher than the previous product. The expected leverage effect has been proofed at its best.
Collaboration also in the future
Mehul Gothi is convinced that the right coolant solution has a positive effect on the entire production process and the overall costs. "I have seen with my own eyes how important it is to use an optimal coolant for the entire process" he closes. Also the excellent after sales service stood out. Going forward, Sigma Surgical and Blaser Swisslube India will work in close collaboration to ensure that even with a bigger production plant, Sigma plans to expand its production with additional machines within the next two years, the production processes will continue to run smooth and stable with the Blaser coolant solutions.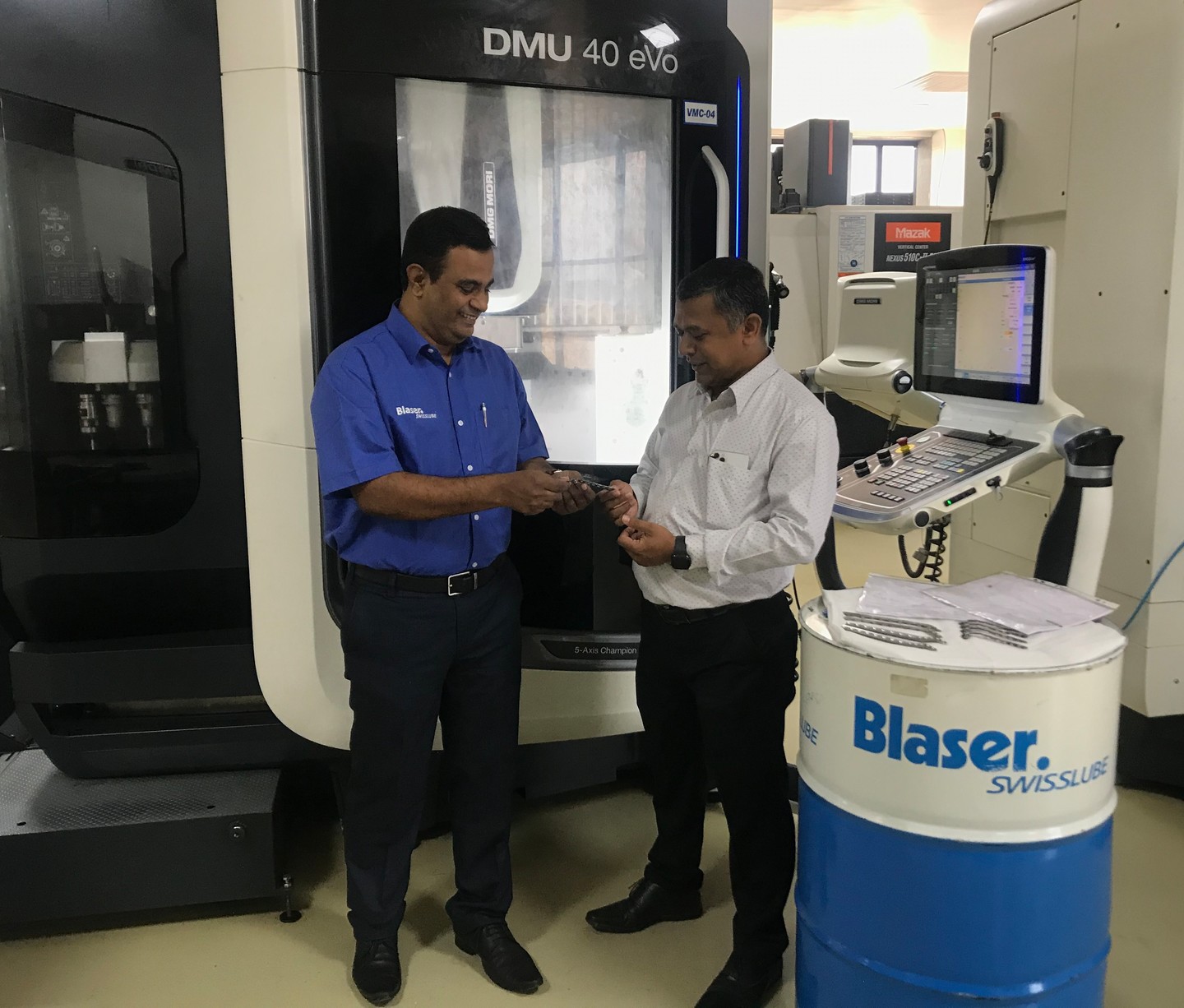 Mr Mehul Gothi from Sigma Surgical and Blaser Swisslube staff (Amol Pawar) discussing about the produced component
Would you like to get more out of your production process? Get in touch with us!