Blaser's Liquid Tool helps orthopedics manufacturer lower costs, increase productivity
It is no secret that productivity is a key element for success in manufacturing. What not everyone knows is that the solution to increase productivity is not always linked to costly investments, major structural reforms or a significant increase in staff. Often, a single solution can make important improvements in productivity while making the manufacturing process more economical. This was the case in a productivity improvement project by Hexagon Orthopedics, one of the five largest Brazilian companies in the manufacture of implants and orthopedic instruments.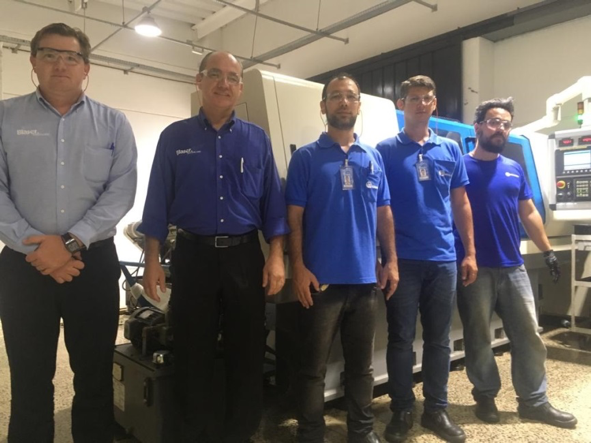 (Left to right) Blaser Swisslube Engineers José Geraldo Bregagnolo and Carlos Henrique Ganzella and the Hexagonn team of Rodrigo Tukaça de Souza, Anderson Donizete Negri and Tiago Rodrigues Junior.
Hexagon Orthopedics, based in ltapira, in the State of Säo Paula, Brazil, has grown year after year since its founding in 1988. Due to its strong commitment to the medical area and its customers, the company has become one of the leading national manufacturers of orthopedic implants. Hexagon credits much of its success to its employees, which is reflected in the low personnel turnover at the company.
However, in 2016 Hexagon Orthopedics had a problem: due to high manufacturing cycle time and low tool life in deep drilling, Hexagon outsourced part of its production, generating undesir­able additional cost in its final product.
In his search for a solution to this problem, Claudia Barbosa, industrial manager for Hexagon Orthopedics, requested a visit from the technical team at Blaser Swisslube Brazil, based in Santo Andre, Säo Paula, to assess the situation. According to Barbosa, "The main objective was to improve the performance of the deep drilling operation with a diameter of 2.7 mm, but the use of vegetable oil was also desired as it was more ecological, among other benefits."
Blaser Swisslube is a Swiss company specializing in providing fluids for machining. Family owned, it was founded in 1936 and has since become a global company employing 600 people worldwide. Blaser Swisslube operates in more than 60 countries, including Brazil.
A thorough analysis of the situation revealed that the HTT Shangay special drilling machine used in the deep drilling operation had a cycle time of 248 seconds and the tool life of the 2.7-mm diameter cannon drill was about 30 percent of the ideal. A detailed analysis of the process was performed evaluating the machine, pump (pressure), materials, and cutting parameters used at the time.
Blaser prepared a Value Proposal for Hexagon Orthopedics that indicated that Blaser's solution would increase productivity by 5 percent and tool life by 10 percent. The recommended product was Vascomill 10, a vegetable-based oil product that met the technical conditions and customer requirements to use a vegetable product.
The results on the HTT Shangay deep drilling machine were monitored on a weekly basis during the test phase. This lasted from August to October 2016. During that time, tool life of the 2.7-mm cannon drill increased by 71 percent, and the cycle time was reduced by 40 percent, from 248 seconds to 148 seconds, doubling the feed rate. The results generated a financial gain of 35 percent in the entire machining process.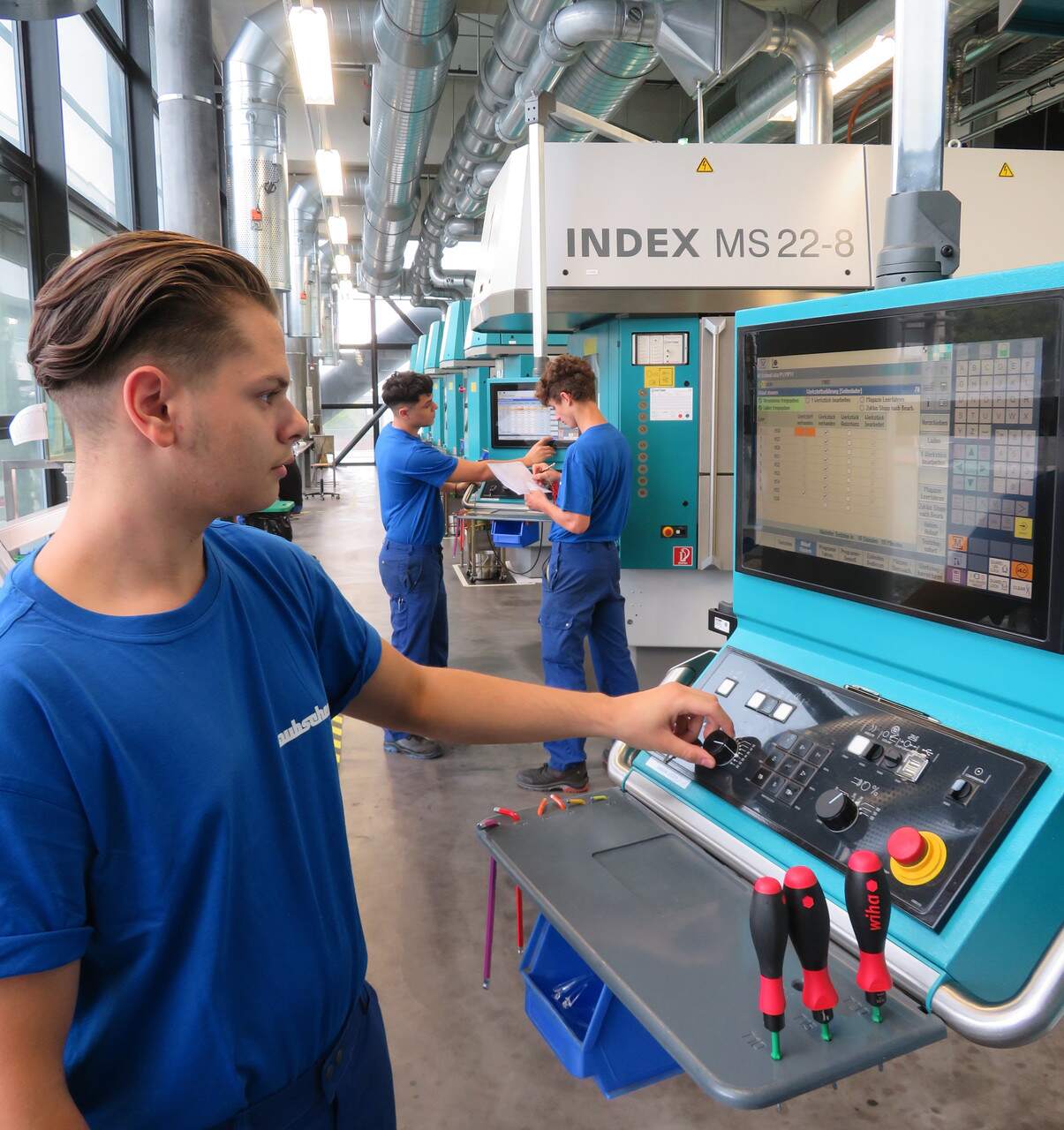 A rod produced by Hexagon Orthopedics at its Itapira plant and sold in South America.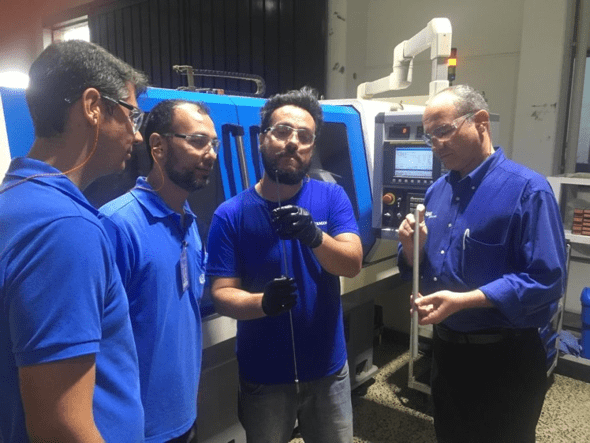 Hexagon Orthopedics' team, including (left to right) Anderson Donizete Negri, Rodrigo Tukaça de Souza and Tiago Rodrigues Júnior, examine a part machined on the company's HTT Shangay special drilling machine, along with Blaser Swisslube Engineer Carlos Henrique Ganzella (far right).
In the succeeding two years, Hexagon Orthopedics has internationalized its entire production and uses only Vascomill 10 in its machining operations. The company consolidated its partnership with Blaser Swisslube in 100 percent of its plants, using vegetable-based products, both neat oil and water miscible.
Currently, the Itapira facility has 19 machining centers, 15 Swiss-style turning and 21 CNC lathes. Stainless steel (316 and 304), pure titanium, titanium alloys (5832-3) and aluminum (6043-TS) are among the machined materials.
"When the coolant becomes a Liquid Tool, the machining processes also become more competent. Our consultants are experts in offering the best solutions to increase productivity and generate production gains," said Alessandro Erich Alcantarilla, managing director of Blaser Swisslube Brazil.
Learn more about our Liquid Tool and contact us today!