Tool cost savings by up to 40 percent and rust-free parts with Blasocut
Imtiyaj Mujawar and Blaser Swisslube staff (Amol Malichkar) discussing about improved tool life
Technocube in India experienced the leverage effect of the optimal coolant on the productivity: They were able to reduce tool costs by almost 40 percent with the Blaser Blasocut coolant solution
Technocube, located in Kolhapur, is a young organization and ventured by M/s Siddhi Technozen. They supply and support sectors like Aerospace, Hydraulic, Medical Implants and Oil and Gas with various steel components.
In their turnmill centers they've experienced issues with the previous coolant. They fighted with unpredictable tool wear and observed rust on the produced components after 24 hours. "We've reached out to our Machine Tool Builder DMG Mori and they recommended Blaser Swisslube to us", explains Imtiyaj Mujawar Partner at Technocube.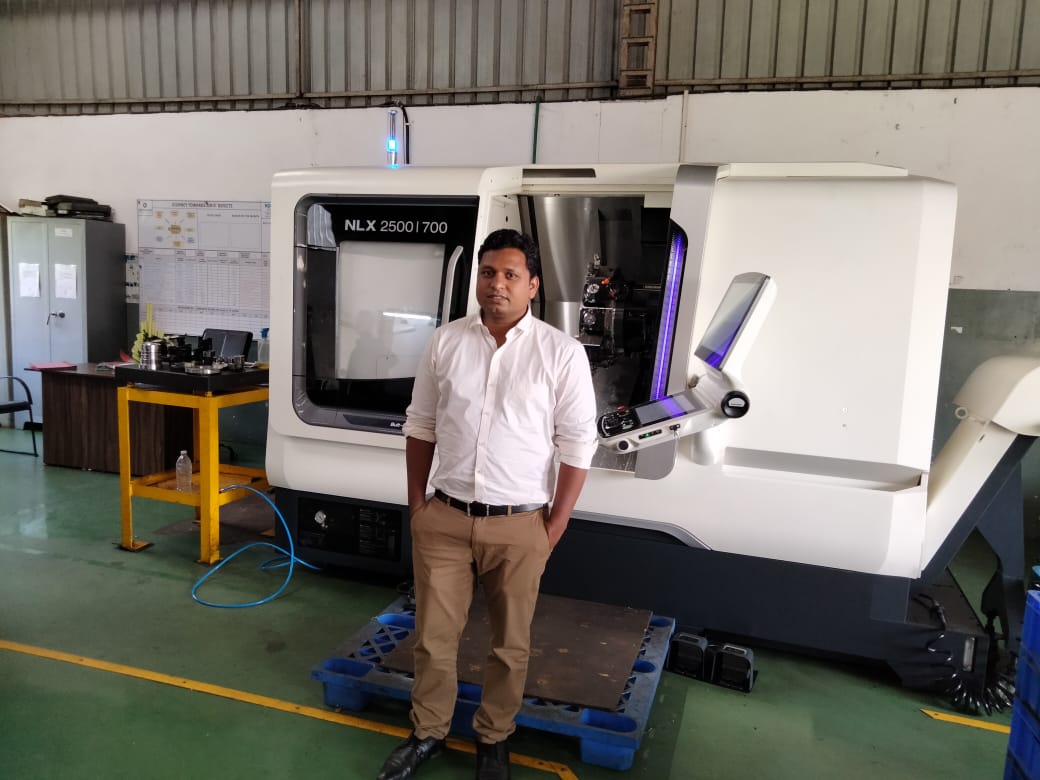 Imtiyaj Mujawar from Technocube in front of DMG Mori machine
Taking a holistic view on the production process at the customer's production site was the first step towards getting to the bottom of the issues described. With the gained knowledge, the Blaser coolant specialist Amol Malichkar was able to recommend the right solution to meet with the customers' requirements. "Our focus was on resolving the two main issues of Technocube", says Amol Malichkar. Firstly, we wanted to improve the unstable processes and to avoid the rust occurences on the parts. From my experience Blasocut is well suited for the manifold applications at Technocube" explains Amol Malichkar from Blaser Swisslube India. Imtiyaj Mujawar agreed to run a test with the recommended Blaser coolant solution on a DMG Mori NLX 2500 for two months. The produced part was for the oil and gas segment and included applications like running, grooving, milling and drilling.
Tool cost savings which convince
The Blasocut solution made the convincing difference.The tool life improved by up to 40 percent on six DMG machines. The increased and consistent tool life resulted in overall ROI of 244 percent per year. An investment that pays off. Even though the coolant costs of Blasocut are higher than the previous product. The expected leverage effect has been proofed at its best.
New developed coolant solutions in the future
Imtiyaj Mujawar is convinced that the right coolant solution has a positive effect on the entire production process and the overall costs. "I am happy to be a Blaser customer and profit from best performing products and great service" he closes. Going forward, Technocube and Blaser Swisslube India will work in close collaboration to ensure that the production processes will continue to run smooth and stable. Also with new developed Blaser coolant solutions, which will be implemented at the Technocube plant further down the road.