Steadily expanding our expertise in the field of minimum quantity lubrication
The GROB G550 converted to MMS at the Blaser Swisslube Technology Center
For this purpose, Blaser invested in a new GROB machine and converted it to minimum quantity lubrication (MQL). A holistic approach that takes into consideration all parameters involved in the process is typical. That is why Blaser also works with different partners, for example EMUGE.
A metalworking fluid manufacturer interested in (or using) MQL—isn't that a contradiction?
For Blaser Swisslube, metalworking fluid and minimum quantity lubrication go hand in hand. What may sound a little strange to some, is normal for the Swiss family business. "We are committed to providing our customers with measurable added value in the field of cutting and grinding fluid and lubricant solutions. Whether it's with a suitable cutting and grinding fluid or with a minimum quantity lubricant matched to the process," explains Marc Blaser, CEO of Blaser Swisslube. In order to expand expertise in the field of MQL, a GROB G550 machine was purchased this year, which was specifically modified for MQL production. "We are looking to develop steadily, and better understand the fields of activity in MQL. To this end, we work closely with partners," he concludes.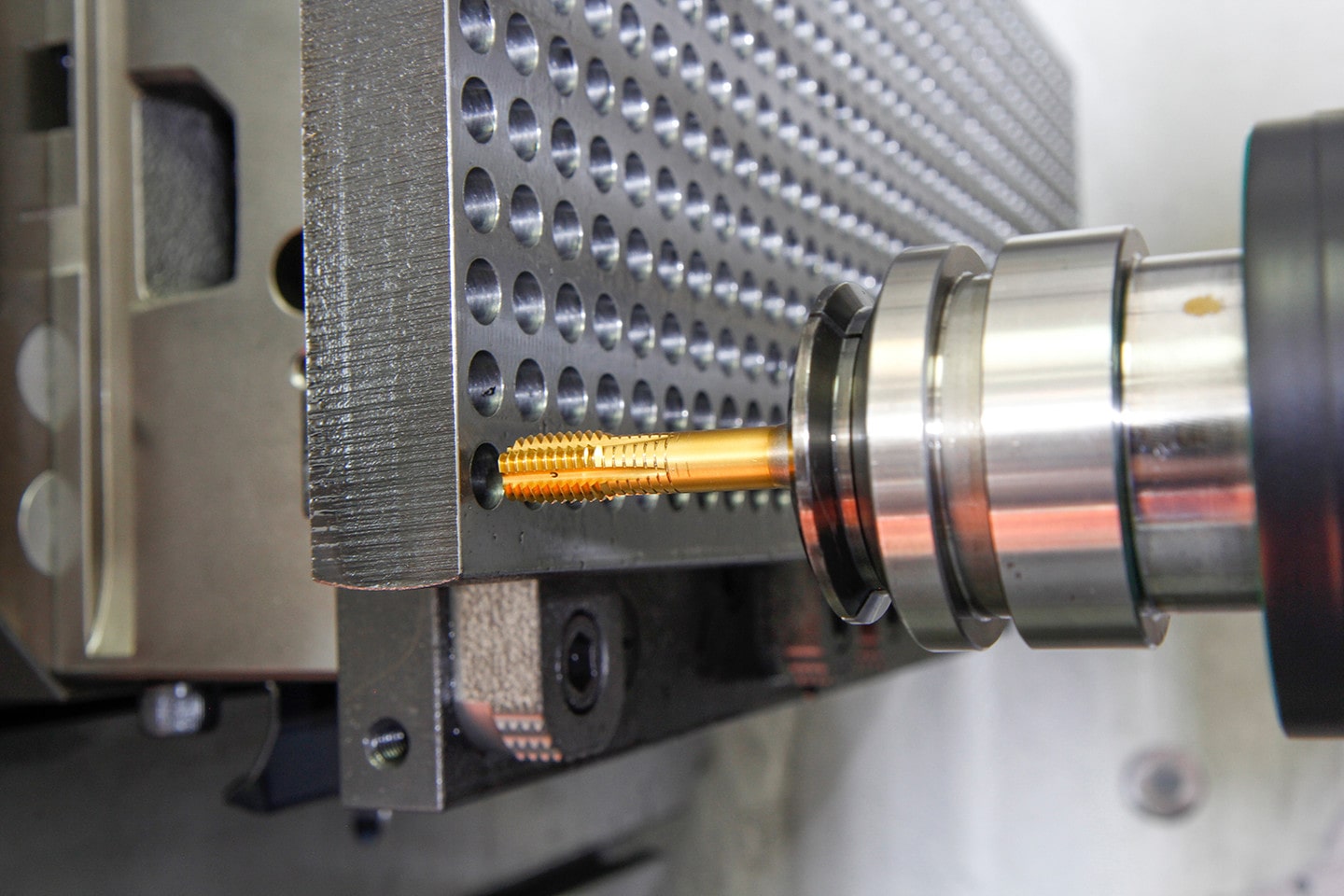 Thread forming at the GROB with tools from EMUGE
Competence in minimum quantity lubrication
When using MQL, the entire process has to be taken into consideration. Significant progress has been made in the field of MQL over recent years, which also presents metalworking fluid manufacturers with the challenge of developing products specially suited for this purpose. Given the appropriate machining processes and the right implementation, Blaser Swisslube sees huge potential in MQL. Conversion to MQL requires adaptation of tools and process parameters. However, many users lack experience with MQL processes, which can be compensated for by the involvement of experts and the knowledge of tool, equipment and metalworking fluid suppliers.
"With the machine converted to MQL, Blaser Swisslube can compare applications and materials with MQL, cutting and grinding oils and water-miscible coolants, and build up practical process knowledge. We want to provide answers to our customers' questions – including in the field of MQL," says Tobias Mathys, Process Engineering Manager at Blaser Swisslube.
Process development with EMUGE
A project with EMUGE started in early 2019. The aim of the research was to gain knowledge in the field of thread forming in steel alloys in terms of the cutting forces in correlation with the MQL product used. For this purpose, threads were formed with a tool from EMUGE, often found in the aerospace and automotive industries.
Not all materials are suitable for forming due to their material properties. Materials suitable for forming must have a tensile strength of less than 1400 N/mm2 at an elongation of at least 5%. "The differences between the various materials and alloys are enormous. Our aspiration as an MQL partner is to know the optimal process window for our MQL solutions," adds Tobias Mathys. "The torque depends on the factors material, lubrication, prefabrication diameter, thread dimension, geometry and also tool coating. Thanks to the high quality standards of EMUGE tools and the comprehensive process knowledge of their technologists, we have been able to develop a reproducible test method. This method allows us to make statements about our products and their area of application," concludes Tobias Mathys.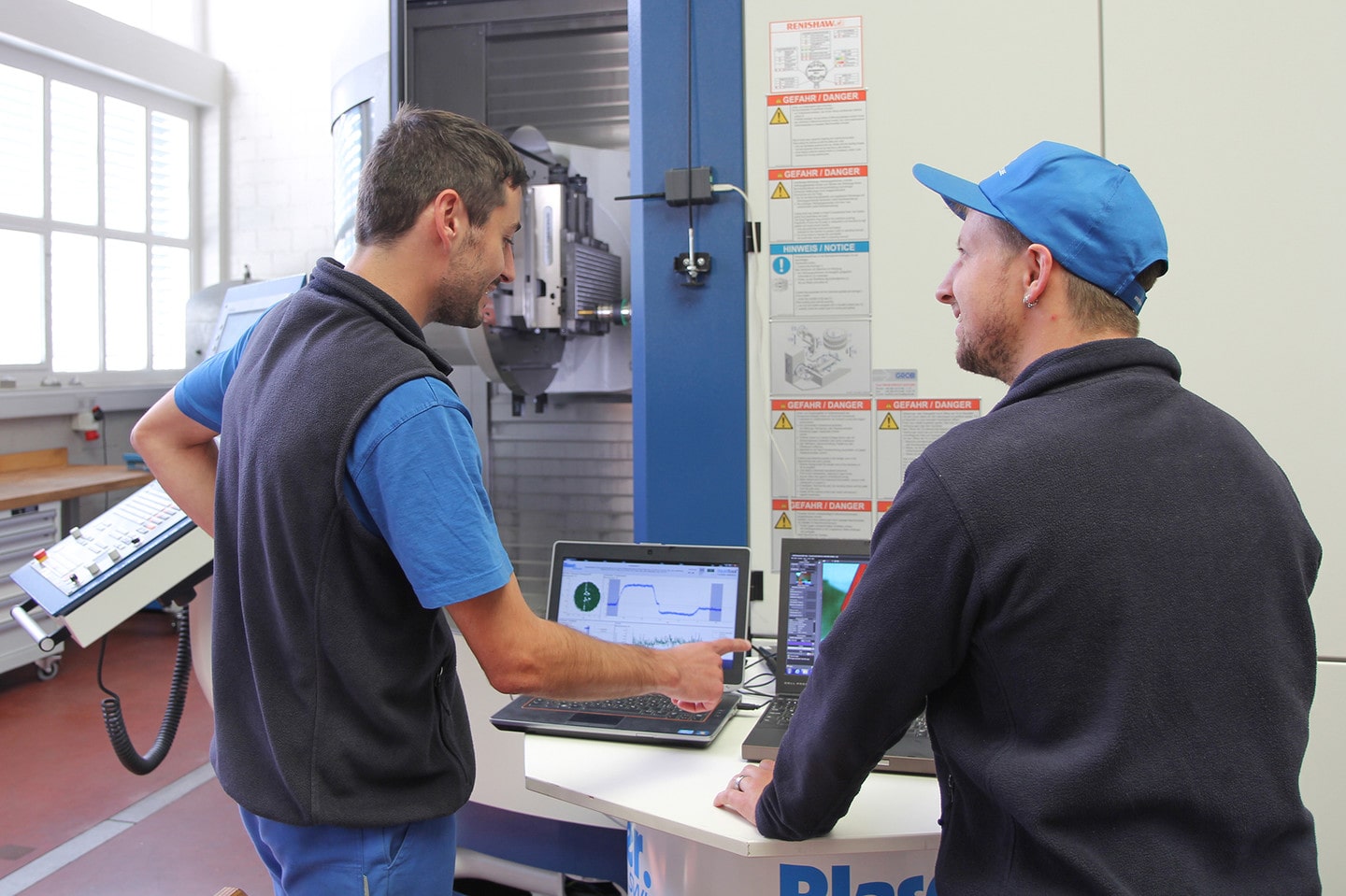 Blaser Swisslube employee evaluating the data