Measuring the coolant concentration = measuring success
The metalworking fluid concentration of the emulsion is the most important parameter to check on site. Remember: There is no stable process without a stable concentration!
A simple and cost-effective way to measure the metalworking fluid concentration is to use a handheld refractometer. As you may know, light changes the direction when it enters a liquid – this is called refraction. Refractometers measure the degree of this direction change, called the angle of refraction.
The reading on the measuring scale, recognizable by a clear color separation on the scale, indicates the concentration level of the emulsion.
For some metalworking fluids, the reading on the measuring scale needs to be multiplied with the product-specific "refractometer factor". The result is the actual concentration of the emulsion.
It is important to calibrate a handheld refractometer with water. The zero-point setting should be done with high quality water before measuring the concentration of the emulsion. If the reading on the measuring scale looks diffused, it means that the emulsion is either unstable or heavily loaded with tramp oil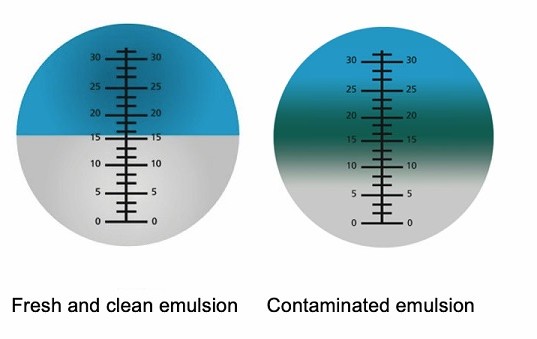 View through Refractometer