Optimum coolant ensures skin compatibility and increases productivity
Serious skin problems among machine operators and the resulting high level of sick leave gave those responsible at Weber-Hydraulik GmbH considerable cause for concern. The culprit was the use of unstable coolant. Working with the experts from Blaser Swisslube, they switched the coolants B-Cool 755 and Synergy 915, which allowed the company to kill two birds with one stone: Skin problems are a thing of the past, while coolant life has increased more than fivefold and costs have been reduced by 75 percent.
Weber-Hydraulik GmbH is an international expert in custom-made and reliable hydraulic solutions. For more than 80 years, the innovative Swabian family-owned company, based in Güglingen, Germany, has been offering sophisticated, application-specific system solutions according to customer requirements. They develop highquality cylinders, control blocks, steering and suspension systems, valves and aggregates for mobile machinery, commercial vehicles and machine tools as well as rescue equipment and components for renewable energy. Founded in 1939, the company is 100 percent family owned and has a turnover of around 300 million euros with more than 1,700 employees. The Weber-Hydraulik Group has seven locations worldwide. The company offers a wide range of manufacturing processes at the Güglingen, Germany location which includes both soft and hard machining as well as electroplating.
Four years ago, an unstable coolant caused problems in the production plant in Güglingen. The sump life of the emulsion was very short at three to five months. The biggest challenge, however, was the serious skin problems among the machine operators, which led to a high level of sick leave. The works council and management were informed and the search for a reliable coolant partner began.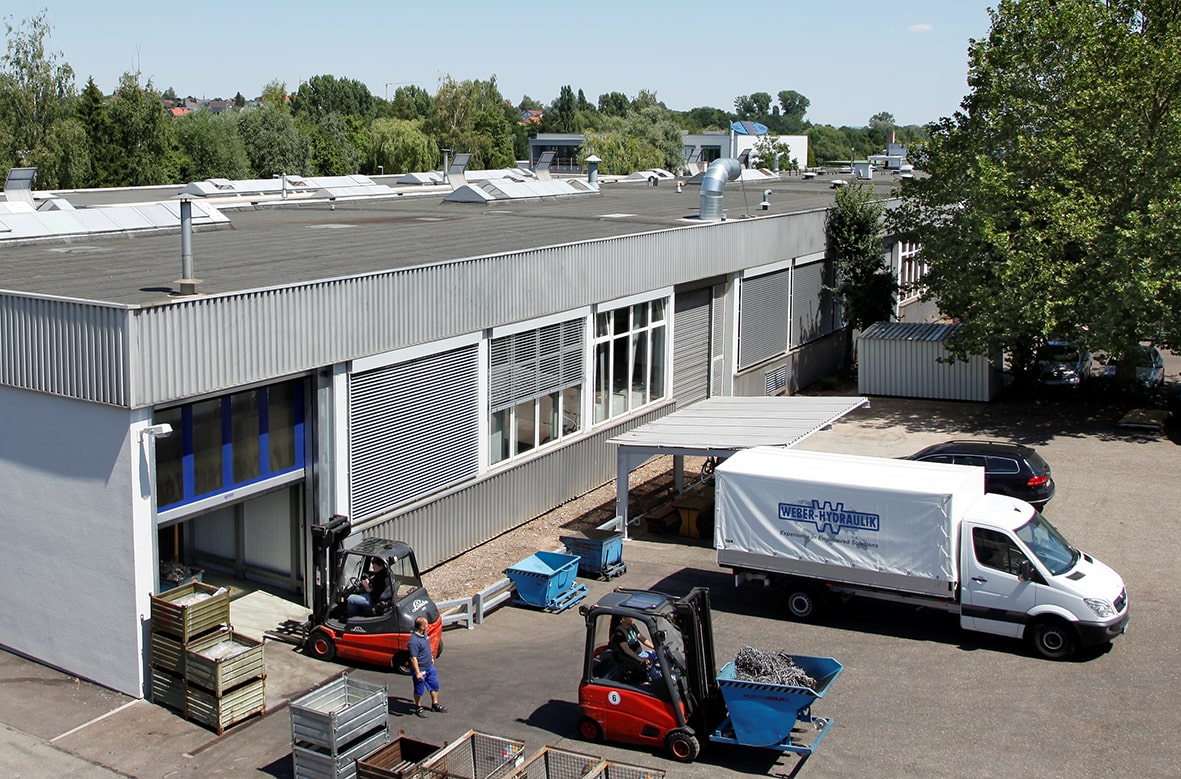 The Güglingen, Germany location of Weber-Hydraulik GmbH offers a wide range of manufacturing processeswhich includes both soft and hard machining as well as electroplating.
Seek, and ye shall find: After initial discussions with the coolant experts from Blaser Swisslube, our Regional Sales Manager, Jochen Rühle, examined the production processes at Weber-Hydraulik. "Numerous factors play a role in selecting the optimal coolant solution, ranging from the manufacturing processes through the processed materials to the water used. If the coolant is ideally matched for all conditions, it becomes a liquid tool, which increases efficiency and productivity," explains Jochen Rühle. After a comprehensive analysis, it was recommended to use B-Cool 755 – a coolant containing mineral oil, which is characterized by optimal rinsing behavior, good resistance to the growth of microorganisms, clean machines and low top-up rates.
In a first test phase, B-Cool 755 was put to the test on a Gildemeister lathe for four weeks, after which further tests in the entire piston rod production were ordered. Since the tests were very successful, all machines were gradually converted to Blaser coolants. In addition to B-Cool 755, Blaser coolants Synergy 915 and Blasocut GR were used for grinding and deep-hole drilling.
Since switching to B-Cool 755, the skin problems among employees have become a thing of the past, which is an immensely important improvement. At the same time, the coolant service life has increased from three to five months previously to more than two years. The coolant costs were reduced by an impressive 75 percent.
Vincenzo Trivigno, Production Manager at Weber-Hydraulik, reports: "We've solved the health problems of our employees! Since we started working with Blaser Swisslube, we also no longer have rust on the piston rods during the summer months. We were able to greatly reduce rework costs and increase delivery reliability!"
Building on the extremely positive experiences from Güglingen, and in cooperation with Blaser Swisslube, the Weber-Hydraulik Group wants to standardize the processes and coolants in the plants in Germany, Austria and Poland in the next step. In this case, Weber-Hydraulik can rely on competent Blaser support on site.
Learn more about our Liquid Tool and contact us today!