Sustainable production thanks to the Liquid Tool
Headquarters in Triengen, Switzerland
Trisa AG, a leading global supplier of oral, hair and personal care products, faced problems in its production: it was using an unstable coolant that had to be changed every two to three months, discolored and left stains on non-ferrous metals and aluminum. Following thorough analysis by the specialists from Blaser Swisslube, the turning and milling processes were converted to the Vasco 5000 coolant. The results were gratifying: emulsion sump life was quadrupled, the process was stabilized and discoloration was eliminated.
Trisa employs around 1,100 people in its entire group. The employee- and family-run company was founded in 1887 and has been in the hands of the Pfenniger family for four generations. While 50,000 toothbrushes were produced each year in the 1950s, this number has now risen to over one million a day. In 2018, consolidated sales amounted to 219.6 million Swiss francs. Trisa is based in Triengen in the canton of Lucerne.
Andreas Meier, Head of Production at Trisa, contacted Blaser Swisslube in 2018. He was unhappy with the coolant situation in his company and was considering switching to Blaser Swisslube products. Following a change in its formulation, the coolant used had been unstable for some time. Additives had to be added constantly, but the emulsion sump life was still only around two to three months. In addition, there was staining on copper alloys and aluminum. This meant that tools had to be cleaned before machining. In short: process security in production was unreliable.
The objectives were clearly identified at the start of cooperation: firstly, a stable, sustainable process needed to be achieved, secondly, both coolant discoloration and staining on metals needed to be eliminated.
A Blaser application engineer visited the production site to get a precise picture of the situation in production. Different materials are processed, such as various grades of steel, copper alloys, aluminum and plastics. A variety of operations are used, such as milling, turning and grinding. "We also checked the water quality and found that only soft water is available. All of these factors influence the choice of the right coolant," explains Marco Frey.
The Blaser application technician recommended the use of Vasco 5000 for milling and turning. This coolant is based on renewable raw materials and is free from mineral oils. "The natural polarity of the oil molecules ensures excellent performance. Thanks to the compactness of the lubricating film, Vasco 5000 is stable under high pressures and temperatures," says Frey. Before the changeover, the people in charge at Trisa checked the coolants compatibility with aluminum and copper. As part of an immersion test, aluminum and copper parts were immersed the coolant and then the behavior of the coolant and materials was evaluated. The results were positive.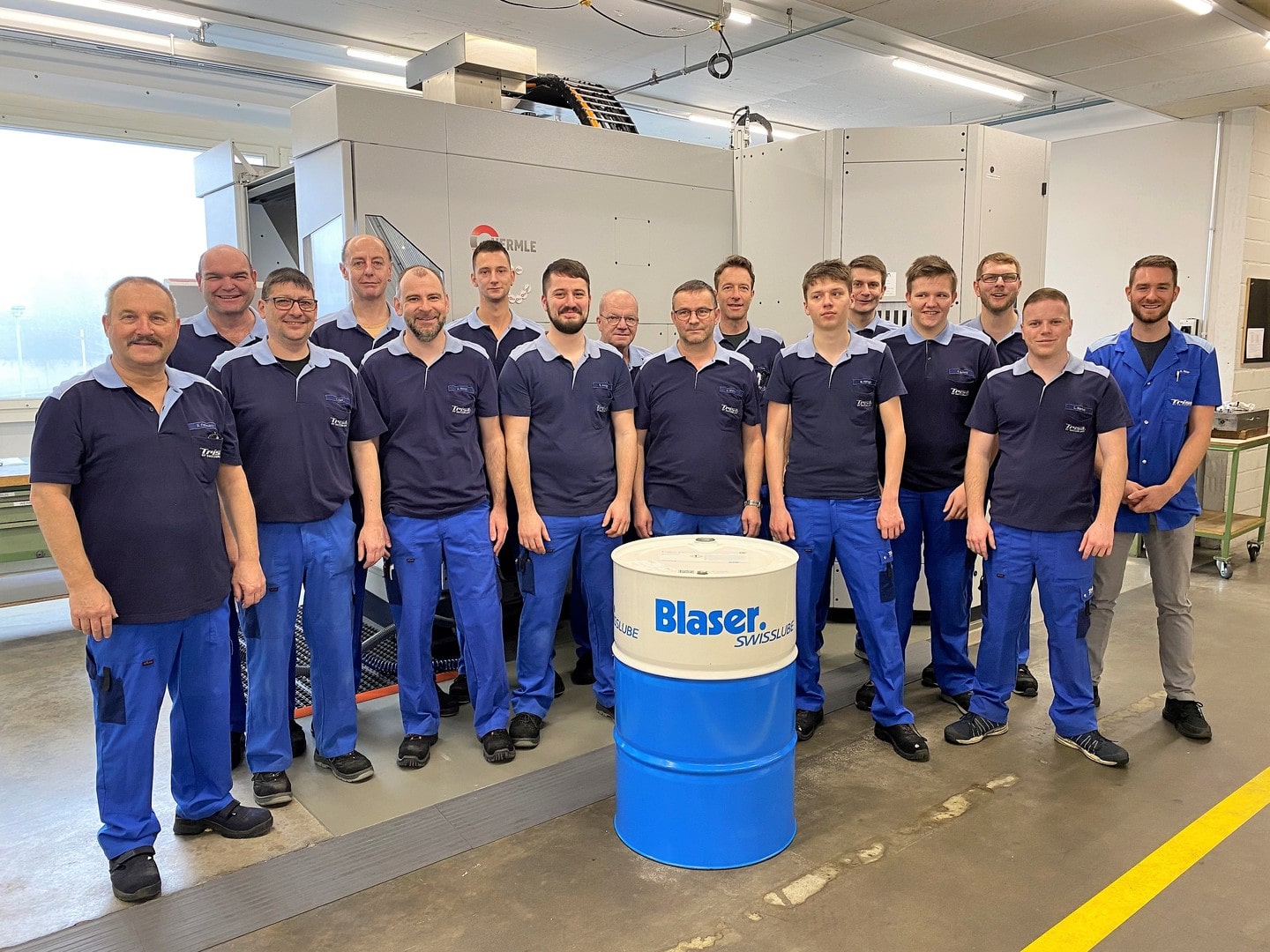 Production and assembly team at Trisa
The changeover in the milling and turning operations also quickly proved to be a great success reports Marco Frey: "The emulsion sump life is now more than twelve months – a fourfold increase. The processes are also very stable. Foam and residue are a thing of the past!"
Surface quality improved, expertise shared
The changeover to Vasco 5000 enabled staining on aluminum and copper to be completely eliminated. The discoloration of the coolant is also no longer an issue. Blaser Swisslube played a major role in overseeing the changeover in coolant and also offered training courses in optimum handling and maintenance of coolant, also aiming to increase awareness of monitoring among Trisa employees.
"We are very happy with Blaser Swisslube's products and services. The training sessions held at our site were very informative and we gained a lot of knowledge about the correct maintenance and handling of coolants," emphasizes Andreas Meier, Head of Production at Trisa.
Collaboration between Trisa and Blaser Swisslube was quickly extended to include other manufacturing processes – with equally gratifying results. Machining costs were reduced by a third during erosion, while grinding processes were successfully switched to Blaser grinding oils. Trisa achieved cost savings by streamlining its range. Regular training courses ensure the best possible transfer of knowledge. Trisa and Blaser Swisslube intend to continue working together in the future to further increase productivity, process reliability and sustainability.
Let us show you how we can also improve your productivity sustainably with the Liquid Tool!