Synthetic cutting fluid keeps shop cleaner without sacrificing performance
The move to a new facility presented the opportunity to change the CNC machines over to a new metalworking fluid to improve air quality and cleanliness at Wells Manufacturing in Houston.
Sometimes synthetic metalworking fluids end up negatively impacting tool life when used with tough materials. Wells Manufacturing overcame that issue when it converted to a new product from Blaser Swisslube.
While preparing to physically relocate 14 milling and turning machines to his new building in Houston, Texas, owner James Wells decided it was the right time to examine every process at Wells Manufacturing for potential optimization.
He had just invested in a new, larger facility with bright lights and shiny new epoxy floors intended to represent the culture of quality at Wells Manufacturing. But it wasn't until he had to clean out his machines for the move that he thought about the metalworking fluids going into them. After a decade of filling the sumps with the same product, he recognized an opportunity to try something new in hopes of further improving the new shop environment.
Mr. Wells met with John Hinders, the area manager for Blaser Swisslube, to discuss his options. "I suggested that Mr. Wells should try converting to one of our new products, Synergy 735. I thought it would improve the air quality and smell in the shop, and possibly improve tool life as well," Mr. Hinders says.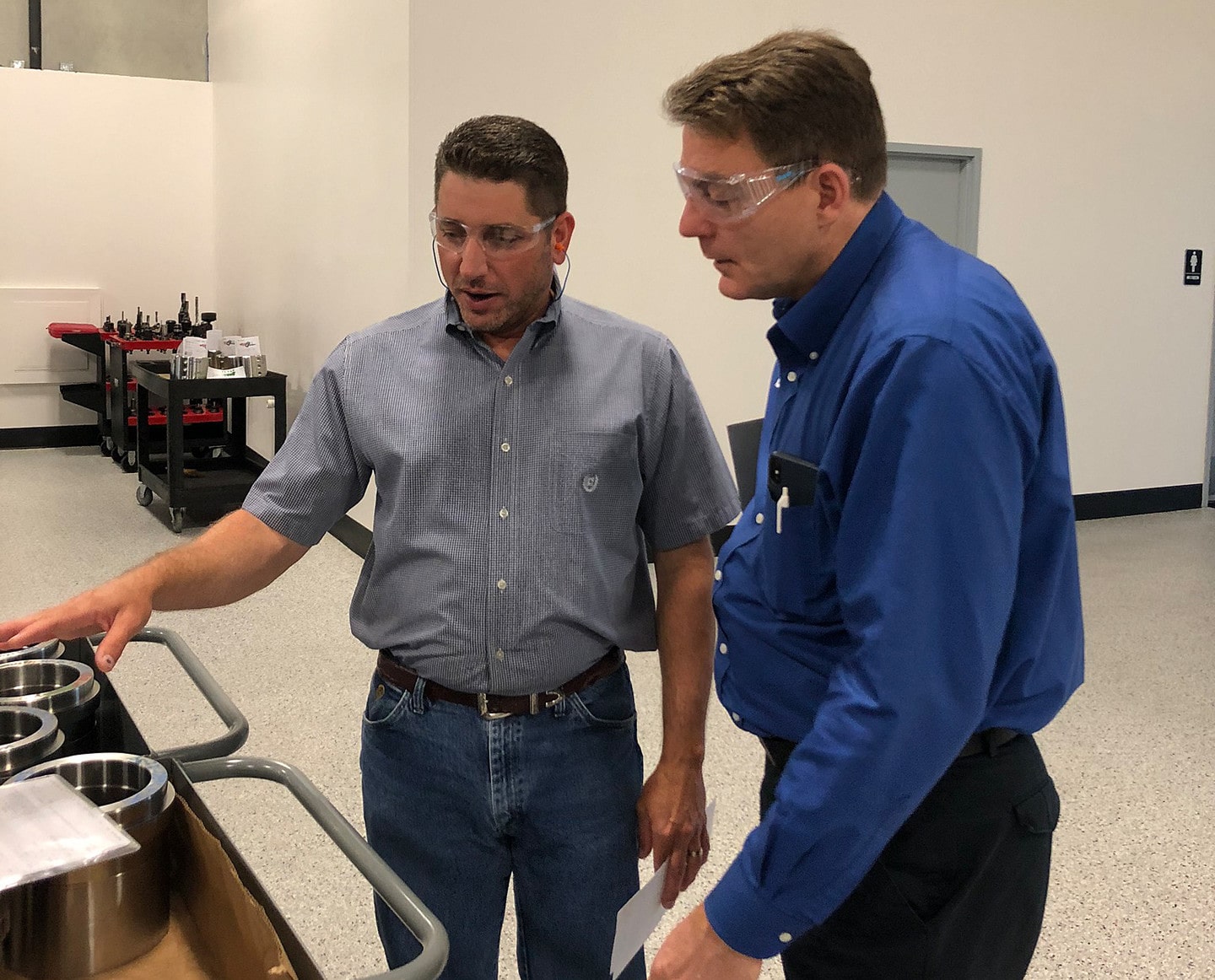 Owner James Wells shows Carsten Witthuser, general manager of Blaser Americas, precision-machined parts made at Wells Manufacturing of materials including nickel-based alloys, hardened steels and stainless steels.
Wells Manufacturing produces parts for many different industries, and that comes with a wide variety of materials including nickel-based alloys, hardened steels, stainless steels (including 13 chrome) and more. This makes Synergy 735 a particularly good fit for Wells Manufacturing because the metalworking fluid is specially developed for mixed production, Mr. Hinders says.
Introduced by Blaser in 2018, Synergy is a completely clear, water-miscible metalworking fluid with a neutral odor. Despite the cleaner formula, the main concern at Wells Manufacturing was how a synthetic product would perform — and impact tool life — when used for machining tougher materials.
In 2018, Mr. Wells decided to test the new metalworking fluid in one of his Doosan machines. It didn't hurt that he had a chance to meet Titan Gilroy of "TITANS of CNC" at the International Manufacturing Technology Show (IMTS) that year. Mr. Gilroy was an early adopter of Synergy in his own shop.
"I think that Titan's endorsement of Synergy actually got his curiosity aroused," Mr. Hinders says. "They met at IMTS, and Mr. Wells really likes what Titan is doing at his shop and with his training initiative for the industry."
The right fluid for the application
More than a year after that first trial, Mr. Wells reports improved air quality, lower consumption of concentrate, equivalent or better tool life, and much improved sump life. "I just cleaned out the sump on that first machine after a year, and it went much quicker because it really wasn't dirty," he says. "It used to be a lot more work and take all day, but now it's done in three or four hours — less than half the time."
After the success in the test machine, all 14 Doosan mills and lathes in the machine shop were converted to Synergy 735. The employees at Wells Manufacturing have noticed the difference, too. "My wife says she thinks I don't go to work in a tool shop anymore, because I don't smell like one when I come home. It's wonderful," says machinist Angel Arizpe.
"I've seen the difference in tool life firsthand after trying different coolants in the past," Mr. Wells says. "Synthetics have a history in our industry of not handling tough materials well, and buying new carbide is usually one of the top four or five expenses in a shop. Blaser has overcome that problem with Synergy."
Synergy 735 is a blend of polyglycols that is designed to provide higher lubricity and a neutral pH. These characteristics support higher material removal rates while minimizing tool wear and delivering surface finishes comparable to those achieved with mineral-oil-based metalworking fluids. The synthetic formula is free of substances like bactericides, boron, formaldehyde, sulfur and chlorine, which can be damaging to the environment and dangerous to employees. Synergy 735 has been designed for excellent rinsability to ensure cleaner machines and parts.
"Metalworking fluids are a small investment in terms of overall production costs, but they impact virtually every part of the manufacturing process," Mr. Hinders explains. "Many shops don't understand how important it is to invest in the right one for their application. But immediately extending tool life by even 10% contributes noticeably to the bottom line, not to mention the less-quantifiable benefits of a cleaner work environment."
I'd like to know more about Synergy 735 and Blaser's unique Liquid Tool.